| | | |
| --- | --- | --- |
| | Globalink / L&H Power Translator Pro 7 | |
Details and specifications on: Globalink / L&HSP Power Translator Pro 7 £99 (although we will match or beat any in-stock UK advertised price, highest price on the web is £234 / $400) - 5-way European + Japanese language translation program. Buy Power Translator now.

This page contains details specifically on European translation capabilities, to see more general information on its Japanese to/from English attributes, click here.

This product is discontinued although occasionally we obtain redundant or second user stock at lower pricing, alternatively we would recommend LEC Translate European Business which includes three additional languages or LEC Power Translator 9 Global which lacks Japanese and the Voice features of the Globalink & L&H versions but adds new features and Russian language capability.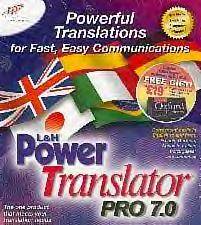 Globalink / L&H Power Translator Pro 7 produces draft translations of foreign language documents, e-mail, Web pages and more. Integrates with Microsoft Office. It is a fully-featured tool for translating text in:
French to/from English
German to/from English
Italian to/from English
Portuguese to/from English
Spanish to/from English
Japanese to/from English
French to/from German
Italian to/from French
Italian to/from German
Italian to/from Spanish
Based on 32-bit Barcelona technology, giving sentence-by-sentence translation from idiomatic databases.

Includes industry specific subject dictionaries (Business, Computing, Legal, Medical) and the ability to add and amend dictionary entries.

Also includes a 40 language word dictionary and a 36 language phrasebook.

Voice commands and text-to-speech reading.

Add-in to Microsoft Word/Excel/Outlook/PowerPoint, and Corel WordPerfect toolbar for quick translation.

International Proofreader.

ReadIRIS OCR - Use this software to scan in documents in over 50 languages.

SCREENSHOTS


---
Use you back button to return to this page after viewing the screenshots.

Screenshot 1 | Screenshot 2 | Screenshot 3 | Screenshot 4
REVIEWS


---
None available
VERSIONS


---
Globalink / L&H Power Translator Pro 7 is available in a combined package containing the six language pairs outlined above.
Version 6.4 may still be available at a reduced price (see Pricing)
We also stock:
LogoMedia Translate European Business
Transcend 2 Spanish to/from English at £645, professional level translation
Transcend 2 French to/from English at £645, professional level translation
Transcend 2 German to/from English at £645, professional level translation
Transparent Language's - Desktop Translator at £117.44 which is similar to Power Translator Pro 7
Language Force's - Universal Translator at £149.99 which covers 25-33 languages at varying levels of sophistication but which compares favourably with TL Desktop Translator and Power Translator Pro 7
Transparent Language's - Easy Translator 4.0 at £39.99 which is a more basic product translating into 5 European languages as above.
Systran Pro Standard Version 4.0, £319.00
LogoMedia Translate V2. European Business Edition, £199
We also stock language learning programs and language dictionary CDRoms, eg:
Collins Intense Language Office - English - French, £29.99
OUP Oxford French Dictionary, £49.99
SYSTEM REQUIREMENTS


---
Pentium® 166 PC or higher
48 MB RAM
Windows® 98/95 or Windows NT® (version 4) - Also works with Windows ME and Office XP!
130 MB hard disk space plus 15-100 Mb per language pair
CD-ROM drive
For L&H Web Translator™ (included), access to the Internet is required using Netscape Navigator® (v. 3.0 or higher) or Microsoft Internet Explorer (v. 3.0 or higher)

PRICING


---
Power Translator Pro 7, £149, Buy.

Approximate foreign currency pricing USD $160, EUR €155, typical airmail delivery to USA approx. $20 or £40 for courier.

Power Translator Pro 6.4, £19 may also still be available for those on a budget

Prices include all applicable taxes

P&P will be charged at "light items" rates - click here for full Postage & Delivery Details including shipping rates within the UK, Europe and worldwide, and next day before midday options.

Email to check latest pricing or stock availability

Check Exchange Rates to convert UK pricing or Email us with your country and/or currency for a quote.


ORDERING


---
Any questions prior to ordering? - then email: Sales, otherwise proceed to the Order Form.

If the online Order Form fails for any reason or your product is not yet listed there, or you wish to print and send your order, then fill in the following, hit the [Select details] button below, and copy and paste to your email program or word processor:

Now hit Ctrl+C to copy the selected text to your clipboard and then paste (Ctrl+V) it into your preferred program
CONTACT DETAILS


---
Click here for full Contact Details including postal address, additional phone lines and technical support email.

Whilst we are based in the UK we can ship most items internationally.


RETURN TO
TOP OF PAGE

CLOSE
WINDOW

PRINT
PAGE

HOME
PAGE

TERMS AND
CONDITIONS

HELP ON USING
THIS SITE