Transparent Language -
Transcend 2.0 Spanish Bi-directional Translator

BACK
FORWARD
www.bmsoftware.com
Details and specifications on: Transcend 2.0 Spanish Bi-directional translation software from Transparent Language, £645 (£549 ex VAT). Transcend gives businesses what they need most - the power to communicate - Transcend is the professional level foreign language translator for business. Transcend enables you to get fast accurate translations of business documents, e-mail, web pages and more.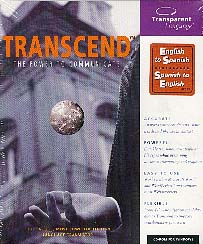 TRANSCEND 2.0 SPANISH Bi-direct from Transparent Language - The power to communicate

Transcend gives you what businesses need most - the power to communicate - Transcend is the most effective foreign language translator for business. Transcend enables you to get fast accurate translations of business documents, e-mail web pages and more.

Bring translations to the programs you already have and know how to use
Transcend integrates smoothly with Microsoft Word and Word Perfect by allowing you to translates documents using pull down menus within these word processors.
All page formatting and graphics are preserved in the translated document for 16 of the most popular file formats.
Translate Web pages on the fly while retaining all graphics and formatting. Hyperlinks translate and remain functional! Supports leading internet browsers such as Netscape and Microsoft Internet Explorer. Easily Customizable to fit your needs - Features like Transcend's advanced dictionary editing and dictionary sequencing technology allow you to customize and improve your translations.
Improve translation quality as you use transcend
Review documents "pre-translation" for unknown words. Add them to the dictionary to improve translations.
Easily create custom dictionaries revenant to your specific projects. Adding words and phrases to Transcend dictionaries is simple and fast.
Includes multi user solution for work groups - Improve productivity across your work group by having multiple user run Transcend from a network server. Share dictionaries among users to improve translation quality across your entire work group.

SCREENSHOTS


---
None Available
REVIEWS


---
None available
VERSIONS


---
Transcend 2.0 Bi-direct fr om Transparent Language is available in:
SYSTEM REQUIREMENTS


---
Microsoft Windows 3.11 or Windows 3.11 for Workgroups, Windows NT 4.0
IBM compatible PC, 486 processor or higher with CD-ROM drive, Minimum 8MB RAM
Minimum 25MB of available hard disk space £645 (£549 ex VAT) Email to check latest pricing or stock availability

Check Exchange Rates to convert UK pricing
Postage, Packing & Insurance Rates
This product is heavy/valuable and attracts the higher P&P rates and may require a signature upon delivery
1
UK light items (2nd class)
£3 (GBP)
2
UK light items insured (1st class) Any orders over £100
Customers may choose this rate on light items under £100 to speed delivery
£6 (GBP)
3
UK heavy items parcelpost
UK light items next day guaranteed
Europe light items
£9 (GBP)
4
World surface mail
£12 (GBP)
5
Europe heavy items
£15 (GBP)
6
UK heavy items next day guaranteed
World airmail
£18 (GBP)
If you require the outer packaging of your order to be intact for a gift then please add this to any special instructions as normally excess weight is removed before despatch to increase chances of a standard letter box delivery, and thus not require you to wait in to receive your order. Minimum P&P on fully boxed orders is £6
Order direct from BMSoftware

Any questions prior to ordering? - Then Email: sales@bmsoftware.com

To order, use the online

If the online ORDER FORM fails for any reason or your product is not yet listed there, or you wish to print and send your order, then fill in the following, hit the Select details button, and copy and paste to your email program or word processor:

Now hit Ctrl+C to copy the selected text to your clipboard and then paste (Ctrl+V) it into your preferred program
CONTACT DETAILS


---
Click here for full Contact Details including postal address, additional phone lines and technical support email.

Whilst we are based in the UK we can ship most items internationally.


| | | | | | | | |
| --- | --- | --- | --- | --- | --- | --- | --- |
| | RETURN TO TOP OF PAGE | | CLOSE WINDOW | | PRINT PAGE | | HOME |