Details and specifications of QuickVerse PDA Standard, £29. Have your Bible to hand with this new version of Quickverse for your PDA!. Buy QuickVerse PDA Standard now.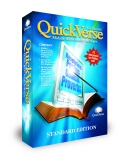 QuickVerse PDA brings all of the features of electronic Bible study to your Palm system carefully linked and cross-referenced automatically! Now you have immediate access to any book/chapter/verse in the New Living Translation or the King James Version!

But that's not all - you now can look up any difficult-to-understand word or phrase using the QuickVerse Bible Dictionary (included) and Matthew Henry's Concise Commentary is instantly available and electronically cross=referenced to any Bible Translation to clarify difficult scripture!

Morning and Evening devotional reading is available every day, instantly! Conbine this with your custom daily reading plan to keep you close to God's word anytime, anywhere!

As with our normal desktop computer version of QuickVerse, you get the same powerful QuickVerse PDA "engine," or program, whether you purchase the QuickVerse PDA Standard or Deluxe. The only difference is that QuickVerse PDA Deluxe has more titles (offering you greater savings per book) that accompany the engine.

Contains:


New Living Translation
King James Version
Matthew Henry's Concise Comm.
QuickVerse Bible Dictionary
Spurgeon's Morning and Evening
Ten Daily Reading Plans


Also available are:

Bibles


Book Title Book Size Your Price
American Standard Version 2,229 KB $9.95
Darby's New Translation 2,248 KB $9.95
God's Word 2,246 KB $14.95
International Children's Bible, New Century Version 2,252 KB $14.95
King James Version 2,231 KB $9.95
New American Standard 2,270 KB $24.95
New Century Version 2,222 KB $14.95
New King James Version 2,254 KB $14.95
New Living Translation 2,312 KB $14.95
New Revised Standard Version 2,250 KB $14.95
New Revised Standard Version, with Apocrypha 2,490 KB $19.95
Revised Standard Version 2,241 KB $14.95
Young's Literal Translation 2,236 KB $9.95
Strongs Resources
Book Title Book Size Your Price
King James Version, with Strongs Numbers 3,635 KB $19.95
New American Standard, with Strongs Numbers 3,635 KB $29.95
Titles Coming Soon!
Bibles (4 books)
Study Bibles (3 books)
Bible History (4 books)
Commentaries (38 books)
Classics (5 books)
Devotionals (7 books)
Doctrine & Theology (10 books)
Language: Greek and Hebrew (2 books)
Reference (8 books)
Sermon Illustrations (2 books)
Workbooks (10 books)
These titles are avaulable as downloads which are locked until the coe is purchased

Multiple Bible Translations - Verse-level synchronization for easy translation comparison. It's like having a parallel Bible at your fingertips wherever you go!
Additional Content - Add more Bibles and reference works as they soon become available.
Single-tap Book Switching - Switch from one Bible translation to another with a single tap!
Fast, Powerful Searches - Find what you're looking for quickly with the most advanced and complete search and retrieval system.
Share what you find with your friends - beam any selected verse or passage, bookmark, or reading plan to any Palm infrared device!
VerseFinder - Enter book, chapter, verse notation or selet from our easy-to-use book, chapter, verse tabs!
Bookmarks - Your favorite passages marked and categorized for easy reference! Add unlimited text with bookmark notes!
Reading Plans - You get 10 reading plans free! And, create your own and track your progress as you read! Keep current with daily reading Palm Date Book reminders!
Customize Your Interface - Elements can be customized to suit individual user needs.
Six Font Selections - (with Sony Hi-Res Clie) three with standard resolution Palm/Handspring devices.
Color Support - Support for color Palm devices.
Extended Memory Support - For Sony, Handspring, and Palm devices.
SCREENSHOTS


---
None Available
REVIEWS


---
None available
VERSIONS


---
QuickVerse PDA Standard, £29, Buy

QuickVerse PDA Deluxe, £39, Buy

Available for the PC are these versions of QuickVerse 7

QuickVerse 7 Standard , £79, Buy
QuickVerse 7 Expanded, £159, Buy
QuickVerse 7 Deluxe, £235, Buy


Compare also:
CEBible
MyBible
Olive Tree PDA Bibles
Pocket Bible
Quickverse PDA Deluxe

SYSTEM REQUIREMENTS


---
Platform: Palm OS 3.1 or higher

Handheld Hardware:
Manufacturer Palm, Handspring, or Sony (Clie)
RAM 8 MB or greater
PRICING


---
QuickVerse PDA Standard, £29, Buy.


Prices include all applicable taxes

P&P will be charged at "light/heavy items" rates (1/2/3 or 3/6) - click here for full Postage & Delivery Details including shipping rates within the UK, Europe and worldwide, same day and next day before midday options.

Email to check latest pricing or stock availability

Check Exchange Rates to convert UK pricing or Email us with your country and/or currency for a quote.


ORDERING


---
Any questions prior to ordering? - then email: Sales, otherwise proceed to the Order Form.

If the online Order Form fails for any reason or your product is not yet listed there, or you wish to print and send your order, then fill in the following, hit the [Select details] button below, and copy and paste to your email program or word processor:

Now hit Ctrl+C to copy the selected text to your clipboard and then paste (Ctrl+V) it into your preferred program
CONTACT DETAILS


---
Click here for full Contact Details including postal address, additional phone lines and technical support email.

Whilst we are based in the UK we can ship most items internationally.


RETURN TO
TOP OF PAGE

CLOSE
WINDOW

PRINT
PAGE

HOME
PAGE

TERMS AND
CONDITIONS

HELP ON USING
THIS SITE