Details and specifications of QuickVerse 7 DeLuxe, £235. Save time and money with this excellent Bible reference program, available in three versions: standard, expanded and DeLuxe, also available for the PDA, PDA Standard, and PDA deluxe.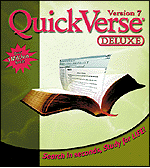 QuickVerse 7 DeLuxe
Simplify your biblical research with powerful searching capabilities, an easy-to-use interface, and plenty of options for expansion—no matter how many Bibles and reference books you use. QuickVerse 7 Deluxe Edition delivers an entire biblical research library right to your desktop. With 18 Bible translations and 108 reference texts and classics, you'll save hundreds of dollars over the cost of buying each title separately! Achieve new insight into every passage with handy QuickLink cross-referencing among multiple bibles and texts. Look up favorite verses in seconds, even if you only remember a few key words. Enrich your own writing projects—from sermons and lesson plans to personal journals—by easily cutting and pasting text from QuickVerse into your word processor documents. Exploring the Word has never been more satisfying! Simplified Access

QuickVerse gives you complete, organized access to your entire electronic biblical library.

Extend your Bible study with the Greek New Testament and The Message: New Testament and Wisdom Books by Eugene Peterson.

Explore the Word with 7 additional references—including the Matthew Henry Unabridged Commentary (6 volumes), Keil and Delitzsch (10 volumes), and MacArthur's New Testament Commentary (12 volumes).

Copy passages to a clipboard or documents—then cut, paste, or print multiple passages.

Track passages studied during a given session with Reference Trail.

Customize your Bible studies by selecting a default translation.

Optimize Your Biblical Research:

Print notes with attached verses—it's easy—especially with the handy new icon in the toolbar!

See the words of Christ printed in red, or choose any other color for easy reading.

Backup and restore your notes.

View multiple reference materials including Bibles, dictionaries, commentaries, and encyclopedias side-by-side right on your screen.

View related maps, illustrations, and full-color pictures from the books that contain them.

QuickLink gives you related verses and reference information for the passage you're studying.

QuickDefine—Look at a definition for any word without opening a dictionary! With QuickVerse 7, it's just a mouseclick away!

Personal Bible Study

QuickVerse 7 has the tools you need to personalize your daily Bible study:

Open QuickVerse 7 and automatically enjoy a daily devotional from My Utmost for His Highest.

Study the entire Bible with Explorer's Bible Study. Passages are broken into daily reading assignments with questions to help you explore the messages of the scriptures. Then record your answers directly in QuickVerse Study Workbooks.

Open related titles at once with StudyViews, pre-defined sets of books that get you started with the Bibles, concordances and commentaries you prefer to use together.

Powerful Searching

Find exactly what you're looking for in any Bible or Bible reference book—even if you only remember a few words of any verse or passage.

Built-in QuickSearch lets you highlight any word or Bible verse and instantly find all of its occurrences in a particular text.

Advanced search options help you search by word, phrase, or verse in various languages across multiple books.

QuickVerse 7's improved text searches provide faster results than ever before!

Share What You Learn

QuickVerse simplifies your lesson, sermon, and Bible-study preparation. You can easily copy text from any book directly to your word-processor documents. And you can attach your own notes directly to Bible verses or reference book passages.

If you own a PDA, then follow the link to get QuickVerse for your handheld - so you can have God's Word with you at all times...QuickVerse PDA Deluxe, £39
SCREENSHOTS


---
None Available
REVIEWS


---
None available
VERSIONS


---
QuickVerse 7 DeLuxe, £235

Compare also:
QuickVerse 7 Standard, £79
QuickVerse 7 Expanded, £159
The On-Line Bible, from £30
Halley's Bible Handbook, £19.95
Logos Library various prices
SYSTEM REQUIREMENTS


---
Platform: Windows® 95/98
Media: CD-ROM
CPU : Pentium or better
RAM : 16MB
Hard Drive: 45MB
Video : Super VGA (640x480x256 color)
CD-ROM: 2X or better
Sound : Windows compliant sound device
Other: Also runs on Windows NT 4.0 or later
PRICING


---
QuickVerse 7 DeLuxe, £235


Prices include all applicable taxes

P&P will be charged at "light/heavy items" rates (1/2/3 etc 3/5/6) - see below

Email to check latest pricing or stock availability

Check Exchange Rates to convert UK pricing
Postage, Packing & Insurance Rates
1
UK light items (2nd class)
£3 (GBP)
2
UK light items insured (1st class) Any orders over £100
Customers may choose this rate on light items under £100 to speed delivery
£6 (GBP)
3
UK heavy items parcelpost
UK light items next day guaranteed
Europe light items
£9 (GBP)
4
World surface mail
£12 (GBP)
5
Europe heavy items
£15 (GBP)
6
UK heavy items next day guaranteed
World airmail
£18 (GBP)
If you require the outer packaging of your order to be intact for a gift then please add this to any special instructions as normally excess weight is removed before despatch to increase chances of a standard letter box delivery, and thus not require you to wait in to receive your order. Minimum P&P on fully boxed orders is £6
ORDERING


---
Any questions prior to ordering? - Then Email: sales@bmsoftware.com.

To order, use the online

If the online [Order Form] fails for any reason or your product is not yet listed there, or you wish to print and send your order, then fill in the following, hit the [Select details] button, and copy and paste to your email program or word processor:

Now hit Ctrl+C to copy the selected text to your clipboard and then paste (Ctrl+V) it into your preferred program Make sure you read our Terms and Conditions.
CONTACT DETAILS


---
Click here for full Contact Details including postal address, additional phone lines and technical support email.

Whilst we are based in the UK we can ship most items internationally.


| | | | | | | | |
| --- | --- | --- | --- | --- | --- | --- | --- |
| | RETURN TO TOP OF PAGE | | CLOSE WINDOW | | PRINT PAGE | | HOME |