Details and specifications of VCOM's System Commander 8, £49.99 (GBP inc VAT £49.99). Multiple OS Management and Partitioning in One Package. [Buy now] or call us on 0870 766 3699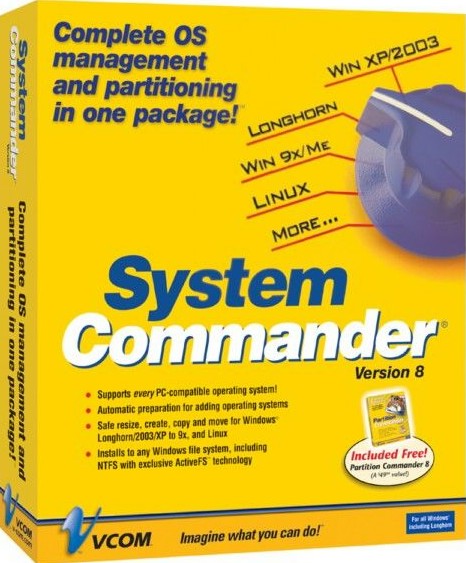 VCOM System Commander 8

Multiple OS Management and Partitioning in One Package!

Easily add and remove OSes - great for safe migrations to a new OS, trying out Linux, or any other OS you'd like. The VCOM System Commander is the ultimate boot manager!

As a boot manger, Supports every PC-compatible OS!

Automatic preparation for adding OSes
User selectable graphics
Installs from any Windows, including Windows XP NTFS.
Free! Partition Commander - Safe resize, create, move & copy for Windows, Linux and DOS partitions.
Undo partitioning with exclusive BackStep™ technology.

With VCOM System Commander, easily select from any OS you have installed When you install System Commander, it automatically detects and adds each OS found to your OS selection menu by name! Just select the OS you want and go!

Boot manager handles multiple operating systems with ease
System Commander handles every OS available on the PC platform including every Windows, Longhorn, all Linux, NetWare, Solaris, and many others you probably have never heard of! You can try out beta versions of new OSes, user current stable releases and even older OSes for legacy software and validation.

OS Wizard™ - The easiest way to prepare your system for a new operating system
System Commander 8's (SC8) OS Wizard makes it easier than ever to prepare your computer for your new operating system (OS). Simply choose the OS you plan to install, and the OS Wizard will set up your system, automatically! Or, if you prefer a more hands on approach, you can override the OS Wizard's recommendations. It even includes our exclusive boot-time partitioning.

The safest way to install your new operating system
Without any other tools, System Commander safely and automatically prepares your hard drive to accept your new OS while protecting everything already on your computer - data and other OSes. No drivers or resident memory are used, so there are no conflicts with any OS and no performance degradation. When you first install SC8, it automatically detects your existing OSes and includes them in the OS selection menu by name!

Exclusive BackStep™ technology
BackStep Wizard is the safest and easiest way to return your system to its original configuration. Let's say that a month after you've installed that beta OS in its own area, you wish to remove it. Using the BackStep Wizard, you can see all of the actions that the OS Wizard previously performed and any manual partitioning work you have performed using SC8. Simply select the operations that you wish to reverse and the BackStep Wizard will undo those steps. Nothing could be easier!

Windows, NTFS and Linux partitioning - Automatically!
SC8 includes Partition Commander for full NTFS, Linux, and all other Windows type partition resizing. So creating and resizing partitions are a breeze. And, our NTFS resizing works perfectly with the latest Windows XP/2003, Longhorn as well as 2000/NT. This also includes our NTFS to FAT32 converter. Our NTFS converter safely handles all NTFS versions. SC8's advanced conversion technology even handles compressed NTFS volumes, another SC8 exclusive! So, if you need to convert between FAT and FAT32 or from NTFS to FAT32, there's no easier or safer way than with System Commander 8!

User Selectable Graphics
SC8 runs in full graphics, up to 1600x1200 resolution depending on the video card and monitor. Our unique driverless design gives you graphics and mouse support, yet only takes a second to start up. Five styles are included.

Exclusive TrueDOS Now you can have easy access to a true DOS prompt at boot time when you have Windows Me, 95 or 98. As most users are surprised to discover, Windows Me no longer has any way to get to a true DOS prompt. Without a true DOS prompt, many of your legacy programs and games cannot work with Windows Me.

When installing VCOM System Commander 8 from Windows 95/98 or Me, a TrueDOS prompt choice is automatically created, giving you easy access to both Windows and a true DOS prompt. Unlike MS or PC-DOS, TrueDOS still retains the features of Windows, such as the ability to understand large FAT32 partitions.

Manufacturer's Product Code: Our Product Ref: VCSC8D
SCREENSHOTS


---
None Available
REVIEWS


---
None available
SYSTEM REQUIREMENTS


---
Windows 95/98/Me/NT/2000/XP/2003
Yes

Pentium or better
RAM 16 MB, (more is required on some operations with huge drives)
Free disk space 20 MB (5 MB under Windows 9x/Me)

Apple MAC
N/A
Purchase Virtual PC first
Linux
N/A
VERSIONS, OPTIONS & ALTERNATIVES


---
| | | | | | |
| --- | --- | --- | --- | --- | --- |
| VCOM | System Commander 8 | £49.99 | (£49.99) | [VCSC8D] | Buy |

Compare also:


| | | | | | | |
| --- | --- | --- | --- | --- | --- | --- |
| VCOM | System Suite 5 | £49.99 | (£49.99) | [VCSS5B] | Buy | | View |
PRICING


---
| | | | | | |
| --- | --- | --- | --- | --- | --- |
| VCOM | System Commander 8 | £49.99 | (£49.99) | [VCSC8D] | Buy |

Also see alternative versions and products above

Prices are in £GBP and include all applicable taxes (VAT etc). Purchases of multiple copies may be eligible for discounts of up to 40%, email us for a quote with the quantity you require.

P&P will be charged at "light items" rates
(Some valuable items may have to go special delivery and packages may have outer packaging or inner boxing removed to save weight, if this is a gift or for resale please request intact boxes)

See our full Postage & Delivery Details including shipping rates within the UK, Europe and worldwide, first class and next day before 9 AM and 12 Noon, same day options.

Email to check latest pricing or stock availability

Check Exchange Rates to convert UK pricing or Email us with your country and/or currency for a quote.


ORDERING


---
Any questions prior to ordering? - then email: Sales or call us on 0870 766 3699, otherwise proceed to the Order Form.

If the online Order Form fails for any reason or your product is not yet listed there, or you wish to print and send your order, then fill in the following, hit the [Select details] button below, and copy and paste to your email program or word processor:

Now hit Ctrl+C to copy the selected text to your clipboard and then paste (Ctrl+V) it into your preferred Email program or click here to launch your Email editor.
CONTACT DETAILS


---
Click here for full Contact Details including postal address, additional phone lines and technical support email.

Whilst we are based in Norwich, Norfolk in the UK we can ship most items internationally.


RETURN TO
TOP OF PAGE

CLOSE
WINDOW

PRINT
PAGE

HOME
PAGE

TERMS AND
CONDITIONS

HELP ON USING
THIS SITE