Details and specifications of VCOM's Final Bid 2, £34.95 (GBP inc VAT £34.95). Win more eBay auctions and save money too. [Buy now] or call us on 0870 766 3699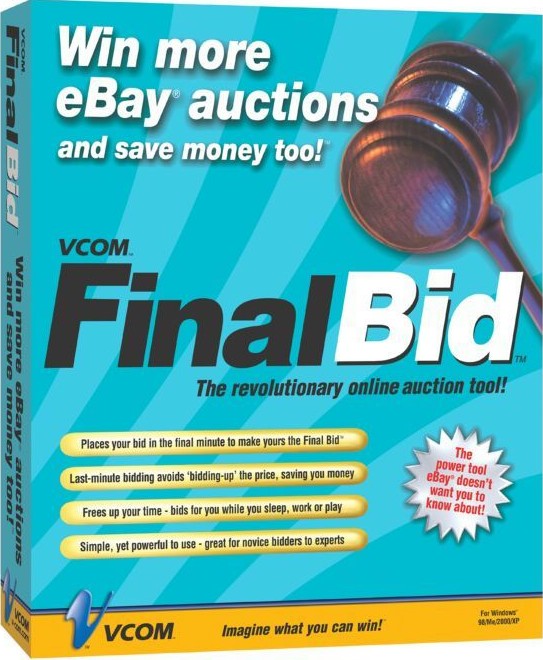 VCOM Final Bid 2

Win more eBay auctions and save money too!

Have you ever been the top bidder in an eBay® auction, only to have someone outbid you at the very last minute? Are you missing out on auctions because you can't be there when they close? Would you like to avoid bidding wars that only serve to push prices higher and higher? Does the idea of paying less for items appeal to you?
If so, then you need Final Bid 3!

The critical last seconds of bidding
Did you know that the most important component to winning most auctions is simply being there at the end to place your bid? VCOM's Final Bid helps you win more auctions by bidding for you in those last, critical seconds, giving your competition little or no time to outbid you! This unique tool gives you the winning edge. And it's so easy! You simply find the item you want, type in your maximum bid, and then walk away.

How can Final Bid win more auctions for you?

About a minute before auction close, Final Bid goes into action, placing the lowest possible bid above the current price (up to your pre-set maximum). And if needed, Final Bid will continue to bid the smallest increment allowable, countering any other bid in seconds - much faster than you (or your competition) can do manually!

Bid less, save more!

You're bidding on an item and as the auction progresses, the price keeps increasing. But why work more just to pay more for the items you win?! Avoid "bidding up" the price - let Final Bid do all the work, and save you money! Have it monitor and place your bids on an unlimited number of auctions. By bidding better, faster, smarter, Final Bid will quickly pay for itself.

Handy "Group Bid" feature helps you save even more.

When you see several auctions selling the same item you want, simply place them all in a Group Bid folder and type in your maximum bid. As soon as one of them wins, Final Bid will cancel all the others in that group, automatically! It's a great way to increase your chances of winning, and getting a lower price too! And you can have as many active Group Bid folders as you'd like.

Feature-packed management tools make "eBaying" easy!

From a single window, check on current bids and auction end times, review past auctions, and easily find, sort and save item information and pictures, as well as complex searches. This makes it easy to pull them up later so you can place new bids, re-run searches, do research and analysis, or make a new auction page to resell an item you won previously on eBay®.

Let Final Bid do the work for you, while you enjoy the fun and excitement of winning auctions!

Never again will you have to miss out on important activities, stay up late babysitting your computer, or worry about having to be right there at auction close. Final Bid will even let you know if the bidding has exceeded your pre-set maximum so you can increase your bid if you choose. Winning on eBay® has never been this easy!

So Easy - Anyone can use it!
Final Bid makes it easy to find great items, set your maximum price, and win that auction!

VCOM Final Bid Benefits
No transaction fees
Simplified eBay login
Complete monitoring - Allows you to view the progress of all your current bids.
Advanced search – Create, runs and saves complex searches to find the products you want.
Get Organized - Automatically records all your closed auctions and can easily save bid pictures and descriptions for later review or use.
Group Bidding - Place bids on multiple similar auction items - when one wins, bidding stops.
Easy Communication - Simplifies the e-mail process of creating and sending inquiries and purchase information.
Clock synchronization – ensures your bid times precisely matches eBay®'s clock.
Automatic program updates - via the web.
Includes 12 months of free eBay script updates.


Manufacturer's Product Code: Our Product Ref: VCFB2B
SCREENSHOTS


---
None Available
REVIEWS


---
None available
SYSTEM REQUIREMENTS


---
Windows 98/Me/2000/XP
Yes

Pentium or better
Browser Internet Explorer 5.01 or later
Internet An internet connection (broadband, wireless or dial-up)
RAM 32 MB, 64 MB recommended
Free disk space 10 MB
User account A valid eBay user account (available free from eBay)

Apple MAC
N/A
Purchase Virtual PC first
Linux
N/A
VERSIONS, OPTIONS & ALTERNATIVES


---
| | | | | | |
| --- | --- | --- | --- | --- | --- |
| VCOM | Final Bid 2 | £34.95 | (£34.95) | [VCFB2B] | Buy |

Compare also:


| | | | | | | |
| --- | --- | --- | --- | --- | --- | --- |
| VCOM | Fix-It Utilities 5 | £34.95 | (£34.95) | [VFIU5B] | Buy | | View |
PRICING


---
| | | | | | |
| --- | --- | --- | --- | --- | --- |
| VCOM | Final Bid 2 | £34.95 | (£34.95) | [VCFB2B] | Buy |

Also see alternative versions and products above

Prices are in £GBP and include all applicable taxes (VAT etc). Purchases of multiple copies may be eligible for discounts of up to 40%, email us for a quote with the quantity you require.

P&P will be charged at "light items" rates
(Some valuable items may have to go special delivery and packages may have outer packaging or inner boxing removed to save weight, if this is a gift or for resale please request intact boxes)

See our full Postage & Delivery Details including shipping rates within the UK, Europe and worldwide, first class and next day before 9 AM and 12 Noon, same day options.

Email to check latest pricing or stock availability

Check Exchange Rates to convert UK pricing or Email us with your country and/or currency for a quote.


ORDERING


---
Any questions prior to ordering? - then email: Sales or call us on 0870 766 3699, otherwise proceed to the Order Form.

If the online Order Form fails for any reason or your product is not yet listed there, or you wish to print and send your order, then fill in the following, hit the [Select details] button below, and copy and paste to your email program or word processor:

Now hit Ctrl+C to copy the selected text to your clipboard and then paste (Ctrl+V) it into your preferred Email program or click here to launch your Email editor.
CONTACT DETAILS


---
Click here for full Contact Details including postal address, additional phone lines and technical support email.

Whilst we are based in Norwich, Norfolk in the UK we can ship most items internationally.


RETURN TO
TOP OF PAGE

CLOSE
WINDOW

PRINT
PAGE

HOME
PAGE

TERMS AND
CONDITIONS

HELP ON USING
THIS SITE