Details and specifications on: AGES Software's The Ultimate Christian Library on DVD, £234. A collection of over 1000 books on DVD including the complete software collections: Master Christian Library, Reformation History Library, C.H. Spurgeon Collection, Complete John Calvin Collection, Arthur Pink Collection, John Owen Collection, John Gill Collection.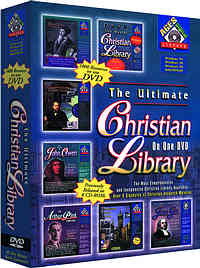 The Ultimate Christian Library on DVD Rom. If you walked into a Christian book store, and were offered 1000 of the most classically acclaimed Christian books and resources, what would you expect to receive?

Would you expect to receive the books at less than 2% of their worth? Would you expect to slip your purchase of these books into your coat pocket, and walk out of the store with your entire purchase? Would you expect to have as an added bonus an index of not only the individual books, but of the whole collection?

AGES Software is proud to offer the first collection of Christian writings to be available on DVD. Over 3 Gigabytes of information are packed onto 1 disc containing the entire libraries of:
The Master Christian Library Version 8
The Reformation History Library Version 2
The C.H. Spurgeon Collection
The Complete John Calvin Collection
The Arthur Pink Collection
The John Owen Collection
The John Gill Collection
AGES Software is making this first DVD collection valued at $399.95 available for only $299.95 for a limited time. Upgrades from the CD collections to the DVD collection are as low as $39.95!

For more information about ordering upgrades please email us. To receive the upgrade discount, we will be requiring that customers mail in their old CD-ROMs. These CD's will be donated to various missionary organizations for distribution in various countries around the world.

SCREENSHOTS


---
None Available
REVIEWS


---
None available
VERSIONS


---
The Ultimate Christian Library on DVD
SYSTEM REQUIREMENTS


---
PlatformOS
SystemSpec

PRICING


---
The Ultimate Christian Library on DVD , £234


Prices include 17.5% VAT

Email to check latest pricing or stock availability

Check Exchange Rates to convert UK pricing
Postage, Packing & Insurance Rates
This product is heavy/valuable and attracts the higher P&P rates and may require a signature upon delivery
1
UK light items (2nd class)
£3 (GBP)
2
UK light items insured (1st class) Any orders over £100
Customers may choose this rate on light items under £100 to speed delivery
£6 (GBP)
3
UK heavy items parcelpost
UK light items next day guaranteed
Europe light items
£9 (GBP)
4
World surface mail
£12 (GBP)
5
Europe heavy items
£15 (GBP)
6
UK heavy items next day guaranteed
World airmail
£18 (GBP)
If you require the outer packaging of your order to be intact for a gift then please add this to any special instructions as normally excess weight is removed before despatch to increase chances of a standard letter box delivery, and thus not require you to wait in to receive your order. Minimum P&P on fully boxed orders is £6
This product will attract the heavy/insured level of postage becuase of its weight/high value, and may require a signature upon delivery.
Order direct from BMSoftware
ORDERING


---
Any questions prior to ordering? - Then Email: sales@bmsoftware.com

To order, use the online

If the online ORDER FORM fails for any reason or your product is not yet listed there, or you wish to print and send your order, then fill in the following, hit the Select details button, and copy and paste to your email program or word processor:

Now hit Ctrl+C to copy the selected text to your clipboard and then paste (Ctrl+V) it into your preferred program
CONTACT DETAILS


---
Click here for full Contact Details including postal address, additional phone lines and technical support email.

Whilst we are based in the UK we can ship most items internationally.


| | | | | | | | |
| --- | --- | --- | --- | --- | --- | --- | --- |
| | RETURN TO TOP OF PAGE | | CLOSE WINDOW | | PRINT PAGE | | HOME |