Details and specifications of TES's Nisus Writer 6.5, £79.00 (GBP inc VAT RRP £94.00). Hebrew-English-Yiddish WordProcessing for Macintosh. [Buy now] or call us on 0870 766 3699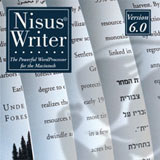 TES Nisus Writer 6.5

About

For the first time, the Jewish Community can write in English plus Hebrew, Russian, Persian, Yiddish... as many as 19 different languages in the same document with the same word processor. And Nisus Writer gives you this capability because its the first word processor thats completely Macintosh® WorldScriptTM savvy. Nothing compares for diverse language writing flexibility, especially in right-to-left text entry. Not to mention powerful editing, formatting, graphics, and layout features, including footnotes and automatic cross-referencing. You can now save any Nisus Writer file in HTML format to easily create web pages. If you are a rabbi, an educator, or a community lay leader, or just need to occasionally add Hebrew to your wordprocessing documents, Nisus Writer is for you.



Features

Nisus Writer gives you the power to write in Hebrew, English, and Yiddish, all in the same document. Nisus 6.0 has an abundance of features, including: Tables Recorded sound annotation Floating tool bars Equation Editor QuickTime support Publish and Subscribe Find materials used in one file to use again in others. Nisus Writers unparalleled Find/Replace capability allows you to search in multiple, closed sermon, bulletin article, eulogy and/or story files for key words or phrases and create a concordance of their occurrences. When Nisus Writer finds them you can copy them from one file and paste into other documents. You can find any Hebrew word in your document whether it appears with or without vowels.

Nisus Writer 6.5 Updates
PowerPC only
Runs in Classic mode under Mac OSX
Runs on any Macintosh running 8.5 or later
Added outlining (see the Outline submenu of the Tools menu).
Added the Document Manager (see the Documents menu to the right of the Gear/Cogwheel menu).
Changed: moving paragraphs (selected by "quadruple-clicking" 4-clicks) has been changed. Copy and Paste now allow you to copy a paragraph by pasting either at the end of the paragraph in front, or at the beginning of the paragraph behind the new location. Drag and Drop adds an additional return at the end of the selection.
Changed: the "Plain Text" command no longer clears user defined styles. This was changed so that choosing plain text within an outline would not break the outline.
Fixed a crashing bug when quickly typing more than 32 characters in the Catalog window.
Fixed support for importing and exporting footnotes using the Mercury RTF filter. The changed filter itself (installed with this version) is also required for footnotes to work.


Nisus Writer 6.0.1 Updates
Nisus Writer 68K version is now released.
Navigation Services is now a preference you can turn on (in the Startup preferences).
The TidBITS AutoCorrect glossary, created by Adam Engst consisting of over 2700 words is now shipped in the Glossaries folder of the Nisus Writer Tools folder.
A selection of Nisus New Files is now available in the Stationery folder of the Nisus Writer Tools folder (none of them require the English (UK) dictionary.
The HTML documentation has been compressed and optimized.
A new Nisus Table Tool released which updates the functioning of some menus.
Nisus Writer 6.0 Features
Zoom feature opens a floating window which shows an enlarged (or reduced) version of the text at and near the insertion point.
Added an automatic Glossary Expansion feature. When turned on, any abbreviation you have defined will be expanded automatically as you type. The setting is saved in the preferences file.
Added a new feature called the Nisus Text Analyzer Tool. It analyzes the text of the current document and produces phrase lists according to relevance indexes. These can be a useful starting point for indexing. Can also be used for very quickly producing a word list of your document. Also lists number of words, number of unique words, and the frequency of each word and phrase.
Support for Navigation Services was added, including Open dialog preview of text documents, Nisus Writer Glossary documents and Macro documents.
Support for contextual menus was added.
A new Grammar Checker is included.
IBM's dictation software "ViaVoice" is supported.
Importing of graphics files using QuickTime has been added.
A new XTND RTF Filter from Mercury Software has been added.
Feature added to allow you to copy the displayed data in the Word Count dialog.
A special file save called Nisus¨TextPlus was added to the list in the Save dialog. It saves the document as a text file with all the notes (endnotes or footnotes) converted to text.
Nisus Table tool now remembers font setting of each empty cell.
Platinum menu background. (This is not yet support for Appearance Manager.)
Options added to the spelling dialog to allow you to turn off capitalization and repeat words checking.
Checkbox in Find/Replace window for turning on/off search through headers/footers and footnotes.
Catalog Icon display has been added for users of MacOS 8.5-9.0.4
Save Settings button, in the Print dialog, saves our custom Print setting panel items (e.g. page numbers as numbered in document).
Feature to make Find/Replace more friendly. If the Find/Replace checkbox "In Selection" is on, but there is no selection and the user initiates a search/replace operation, the checkbox is automatically turned off and the operation carried out on the active document. Previously forgetting that it was on would cause "Expression Not Found" messages and frustration.



Our Product Ref: TESNIW
SCREENSHOTS


---
None Available
REVIEWS


---
None available
SYSTEM REQUIREMENTS


---
Windows PC
N/A
Mackintosh Only
Apple MAC
Yes
Requires Apple Language Kit Hebrew
support to work in Hebrew.
Apple Language Kit with Hebrew
is available on all Mac OS 9 and above cd's.
Linux
N/A
VERSIONS, OPTIONS & ALTERNATIVES


---
| | | | | | |
| --- | --- | --- | --- | --- | --- |
| TES | Nisus Writer 6.5 | £79.00 | (RRP £94.00) | [TESNIW] | Buy |
PRICING


---
| | | | | | |
| --- | --- | --- | --- | --- | --- |
| TES | Nisus Writer 6.5 | £79.00 | (RRP £94.00) | [TESNIW] | Buy |
Prices are in £GBP and include all applicable taxes (VAT etc)

P&P will be charged at "light/heavy items" rates (1/2/3 or 3/6) - click here for full Postage & Delivery Details including shipping rates within the UK, Europe and worldwide, same day and next day before midday options.

Email to check latest pricing or stock availability

Check Exchange Rates to convert UK pricing or Email us with your country and/or currency for a quote.


ORDERING


---
Any questions prior to ordering? - then email: Sales or call us on 0870 766 3699, otherwise proceed to the Order Form.

If the online Order Form fails for any reason or your product is not yet listed there, or you wish to print and send your order, then fill in the following, hit the [Select details] button below, and copy and paste to your email program or word processor:

Now hit Ctrl+C to copy the selected text to your clipboard and then paste (Ctrl+V) it into your preferred Email program or click here to launch your Email editor.
CONTACT DETAILS


---
Click here for full Contact Details including postal address, additional phone lines and technical support email.

Whilst we are based in Norwich, Norfolk in the UK we can ship most items internationally.


RETURN TO
TOP OF PAGE

CLOSE
WINDOW

PRINT
PAGE

HOME
PAGE

TERMS AND
CONDITIONS

HELP ON USING
THIS SITE