| | | |
| --- | --- | --- |
| | TES Hebrew Transliterator | |
Details and specifications of TES's Hebrew Transliterator, £79 (GBP inc VAT £85). Within minutes you will be reading the Hebrew Prayer in the correct dialec. [Buy now] or call us on 0870 766 3699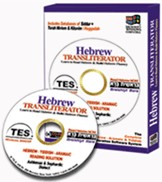 TES Hebrew Transliterator

Imagine, You want to read Hebrew, but you're an English Speaker and never had the opportunity to learn Hebrew... You want to read the Bible or simply Pray. Well until now you had to spend months or even years mastering the Hebrew Alphabet, Vowels and Sounds, but not now... Now with the help of Hebrew Transliterator you can READ a Hebrew word, sentence, or full Prayer instantly. You can even Transliterate a full Hebrew book in a matter of minutes... This amazing program is a MUST HAVE tool. Every Synagogue, Temple, School, Rabbi and Hebrew Teacher will benefit from this powerful automated Trasnliteration System. In fact it is so "fool proof" it can be used by anyone with an interest in Reading Hebrew...You can create your own Prayer Sheets and within minutes you will be reading the Hebrew Prayer in the correct dialect either Ashkenaz or Israeli Sephardic.

It will save Rabbis and Teachers thousands of man-hours of Hebrew Reading Class preparation, and also give them the ability to export the material in HTML format for LONG DISTANCE LEARNING.

Here is HOW IT WORKS... The software comes complete with a Library of Digital Hebrew Books. It includes Two Full Prayer Books one Ashkenaz the other Sephard, the Five Books of Moses all the Prophets and all Five Megillot plus Psalms. In addition we've included the Hebrew Passover Haggadah. That is about all the text you'll ever need. The software also includes and Hebrew Virtual Keyboard and a vowel editor for further text entry and text customization if need be.

Now say the of prayer you would like to READ in original Hebrew is the Mourner's Kaddish or for that matter a Shabbat Song. You simply select the Hebrew text you want. Paste it into the Text Entry Box and click on the Translitrator button. That's it... It takes less than one second to transliterate a full Chapter.

Now you can print it... or export it to the web as HTML. If you look at the samples below you'll see it prints in a Reader Friendly manner with alternating lines of Hebrew Text and the English transliteration. Try reading it.. you'll be amazed... it's like riding a bike for the first time with training wheels... before you know it you'll be off and reading!

Features:

A full blown Hebrew Language transliteration system...
Can Transliterate: Hebrew, Aramaic & Yiddish
Transliterates to: English or Russian
Works with Dagesh and Microsoft Word...
Includes a Hebrew Virtual Keyboard for Hebrew Text Entry & Vowel Editing...
Includes Hebrew ClipText Library with Prayer Books, Bible and Haggadah...
Transliterates Words, Sentences, Paragraphs even full Documents in seconds ...
Ideal tool for helping teach Hebrew Reading...
Permits creation of Transliterated Prayers directly to the web in HTML...
Generates Reader Friendly Prayer Documents for use in Synagogues and Schools...
Ability to increase Font Size of both Hebrew and English Transliteration to EASY READING SIZE.


Manufacturer's Product Code: Our Product Ref: THEBTL
SCREENSHOTS


---
Screenshot 1 | Screenshot 2
REVIEWS


---
None available
SYSTEM REQUIREMENTS


---
| | | | |
| --- | --- | --- | --- |
| | Windows PC | Yes | Pentium etc |
| | Apple MAC | N/A | Purchase Virtual PC first |
| | Linux | N/A | |
VERSIONS, OPTIONS & ALTERNATIVES


---
| | | | | | |
| --- | --- | --- | --- | --- | --- |
| TES | Hebrew Transliterator | £79 | (£85) | [THEBTL] | Buy |

Compare also:


| | | | | | | |
| --- | --- | --- | --- | --- | --- | --- |
| TES | Sefer Tehillim (The Book of Psalms) | £30 | (£45) | [TSTBOP] | Buy | | View |
PRICING


---
| | | | | | |
| --- | --- | --- | --- | --- | --- |
| TES | Hebrew Transliterator | £79 | (£85) | [THEBTL] | Buy |

Also see alternative versions and products above

Prices are in £GBP and include all applicable taxes (VAT etc). Purchases of multiple copies may be eligible for discounts of up to 40%, email us for a quote with the quantity you require.

P&P will be charged at "light items" rates
(Some valuable items may have to go special delivery and packages may have outer packaging or inner boxing removed to save weight, if this is a gift or for resale please request intact boxes)

See our full Postage & Delivery Details including shipping rates within the UK, Europe and worldwide, first class and next day before 9 AM and 12 Noon, same day options.

Email to check latest pricing or stock availability

Check Exchange Rates to convert UK pricing or Email us with your country and/or currency for a quote.


ORDERING


---
Any questions prior to ordering? - then email: Sales or call us on 0870 766 3699, otherwise proceed to the Order Form.

If the online Order Form fails for any reason or your product is not yet listed there, or you wish to print and send your order, then fill in the following, hit the [Select details] button below, and copy and paste to your email program or word processor:

Now hit Ctrl+C to copy the selected text to your clipboard and then paste (Ctrl+V) it into your preferred Email program or click here to launch your Email editor.
CONTACT DETAILS


---
Click here for full Contact Details including postal address, additional phone lines and technical support email.

Whilst we are based in Norwich, Norfolk in the UK we can ship most items internationally.


RETURN TO
TOP OF PAGE

CLOSE
WINDOW

PRINT
PAGE

HOME
PAGE

TERMS AND
CONDITIONS

HELP ON USING
THIS SITE