| | | |
| --- | --- | --- |
| | Steinsaltz Talmud - Hebrew Edition | |
Details and specifications of 's Steinsaltz Talmud - Hebrew Edition, £179.00 (GBP inc VAT RRP 184.00). Steinsaltz Talmud - Hebrew Edition. The legendary Steinsaltz Talmud is now available on CD-ROM!.. [Buy now] or call us on 0870 766 3699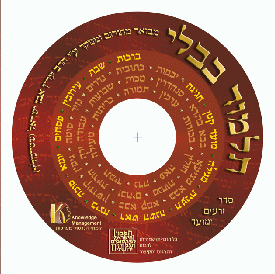 The legendary Steinsaltz Talmud is now available on CD-ROM! It is the Talmud translated into Hebrew, fully punctuated and incorporating sentence and paragraph breaks. The commentary and explanations of the renowned Rabbi Adin Steinsaltz clarify the original Talmud text, and the illustrated marginal notes supply fascinating insights into daily life in Talmudic times.
Product Highlights:
Talmud pages appear on-screen exactly as in the printed Steinsaltz edition
Subject indexes, biographies, Biblical verses, archeological and historical notes are organized into one searchable data base
Talmud pages can be printed from the program
Computerized Masoret Hashas provides Talmudic references with one click
All 35 volumes available to date are present. The remainder of Shas appears in the classic Vilna format.
Copy and paste sections of Talmud pages with Adobe Reader.
Menus and help files in English, French and Hebrew
Our Product Ref: STEINT
SCREENSHOTS


---
Screenshot 1 | Screenshot 2
REVIEWS


---
None available
SYSTEM REQUIREMENTS


---
Windows PC
Yes
PC with Windows 2000/XP, 128MB RAM minimum, CD-ROM drive,
Pentium III 500 or better, Hebrew Language installed, Adobe Reader which can be
downloaded at http://www.adobe.com
Apple MAC
N/A
Purchase Virtual PC first
Linux
N/A
VERSIONS, OPTIONS & ALTERNATIVES


---
| | | | | | |
| --- | --- | --- | --- | --- | --- |
| | Steinsaltz Talmud - Hebrew Edition | £179.00 | (RRP 184.00) | [STEINT] | Buy |
PRICING


---
| | | | | | |
| --- | --- | --- | --- | --- | --- |
| | Steinsaltz Talmud - Hebrew Edition | £179.00 | (RRP 184.00) | [STEINT] | Buy |
Prices are in £GBP and include all applicable taxes (VAT etc)

P&P will be charged at "light/heavy items" rates (1/2/3 or 3/6) - click here for full Postage & Delivery Details including shipping rates within the UK, Europe and worldwide, same day and next day before midday options.

Email to check latest pricing or stock availability

Check Exchange Rates to convert UK pricing or Email us with your country and/or currency for a quote.


ORDERING


---
Any questions prior to ordering? - then email: Sales or call us on 0870 766 3699, otherwise proceed to the Order Form.

If the online Order Form fails for any reason or your product is not yet listed there, or you wish to print and send your order, then fill in the following, hit the [Select details] button below, and copy and paste to your email program or word processor:

Now hit Ctrl+C to copy the selected text to your clipboard and then paste (Ctrl+V) it into your preferred Email program or click here to launch your Email editor.
CONTACT DETAILS


---
Click here for full Contact Details including postal address, additional phone lines and technical support email.

Whilst we are based in Norwich, Norfolk in the UK we can ship most items internationally.


RETURN TO
TOP OF PAGE

CLOSE
WINDOW

PRINT
PAGE

HOME
PAGE

TERMS AND
CONDITIONS

HELP ON USING
THIS SITE