| | | |
| --- | --- | --- |
| | Rosetta Stone Level 1 & 2 Spanish | |


Details and specifications of Rosetta Stone's Level 1 & 2 Spanish, £186.99 (GBP inc VAT £186.99). Rosetta Stone teaches Spanish through a step-by-step sequence of carefully structured lessons. [Buy now] or call us on 0870 360 3699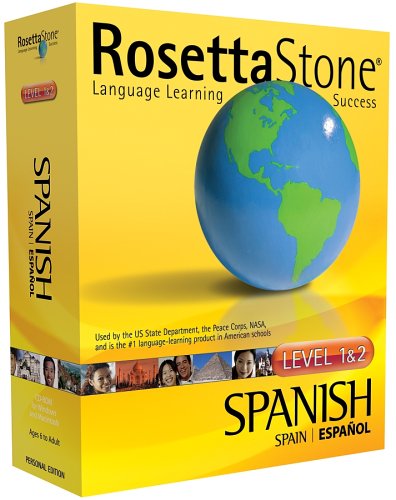 Rosetta Stone Level 1 & 2 Spanish

Rosetta Stone teaches Spanish through a step-by-step sequence of carefully structured lessons, called Dynamic Immersion™. New words become associated with familiar objects, actions, and ideas. Words build to phrases and sentences in a systematic progression.

Studies show that learning exclusively in the new language—without translation as a crutch—is crucial if you want to communicate. Grammar drills and rote memorization never develop this skill. Dynamic Immersion helps you think in the new language and quickly develops the language skills and structures you need to for everyday communication.

Levels 1 & 2 Include:
8,000+ real-life images and phrases in 210 lessons An average of 450 hours of instruction depending on your learning style A balanced curriculum including listening comprehension, speaking, reading, and writing Speech recognition for accent perfection Systematic structure teaches vocabulary and grammar naturally, without lists and drills Previews, exercises, and tests for every lesson with automated tutorials

A Sample of the Topics You'll Find:

People and talking
Directions: "How do I get to …"
Affirmative and negative verb forms
Food, eating, and drinking
Family relationships
Direct objects
Telling time
Numbers to 100
Objects of prepositions
Clothing and dress
Vehicles, furniture, clothing, and instruments
Shapes, colors and locations
Greetings and conversations
Travel, transportation, and transactions
Verb tenses in the passive voice
Shopping and dining out
Asking questions; Forms of address
Imperatives
The weather and clothing
Office activities and terminology
Subjunctive and subordinate clauses
Common social conventions
Calendar conventions
The five senses; Sickness and health


Manufacturer's Product Code: Our Product Ref: RS12SP
SCREENSHOTS


---
Screenshot 1 | Screenshot 2 | Screenshot 3 | Screenshot 4
REVIEWS


---
None available
SYSTEM REQUIREMENTS


---
Windows 98/Me/NT/2000/XP
Yes

Pentium 350 MHz processor
128 MB RAM
100 MB free hard drive space
4X CD-ROM drive
16-bit Windows compatible sound card
Headset microphone, USB or analog (for Speech Recognition exercises)

Apple MAC
Yes

Mac OS 9.2
PowerPC G3 233 MHz processor
128 MB RAM
100 MB free hard drive space
4X CD-ROM drive
Headset microphone, USB or analog (for Speech Recognition exercises)

Linux
N/A
VERSIONS, OPTIONS & ALTERNATIVES


---
| | | | | | |
| --- | --- | --- | --- | --- | --- |
| Rosetta Stone | Level 1 & 2 Spanish | £186.99 | (£186.99) | [RS12SP] | Buy |

Compare also:


| | | | | | | |
| --- | --- | --- | --- | --- | --- | --- |
| Rosetta Stone | Level 1 Spanish | £129.99 | (£129.99) | [RSL1SP] | Buy | | View |
PRICING


---
| | | | | | |
| --- | --- | --- | --- | --- | --- |
| Rosetta Stone | Level 1 & 2 Spanish | £186.99 | (£186.99) | [RS12SP] | Buy |

Also see alternative versions and products above

Prices are in £GBP and include all applicable taxes (VAT etc). Purchases of multiple copies may be eligible for discounts of up to 40%, email us for a quote with the quantity you require.

P&P will be charged at "light items" rates
(Some valuable items may have to go special delivery and packages may have outer packaging or inner boxing removed to save weight, if this is a gift or for resale please request intact boxes)

See our full Postage & Delivery Details including shipping rates within the UK, Europe and worldwide, first class and next day before 9 AM and 12 Noon, same day options.

Email to check latest pricing or stock availability

Check Exchange Rates to convert UK pricing or Email us with your country and/or currency for a quote.


ORDERING


---
Any questions prior to ordering? - then email: Sales or call us on 0870 360 3699, otherwise proceed to the Order Form.

If the online Order Form fails for any reason or your product is not yet listed there, or you wish to print and send your order, then fill in the following, hit the [Select details] button below, and copy and paste to your email program or word processor:

Now hit Ctrl+C to copy the selected text to your clipboard and then paste (Ctrl+V) it into your preferred Email program or click here to launch your Email editor.
CONTACT DETAILS


---
Click here for full Contact Details including postal address, additional phone lines and technical support email.

Whilst we are based in Norwich, Norfolk in the UK we can ship most items internationally.


RETURN TO
TOP OF PAGE

CLOSE
WINDOW

PRINT
PAGE

HOME
PAGE

TERMS AND
CONDITIONS

HELP ON USING
THIS SITE