Details and specifications on: Quick & Easy Cross Stitch Kids - Focus Multimedia , £9.99. Discover the wonderful world of cross-stitch with this unique multimedia CD-ROM, designed especially for children.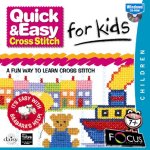 Quick & Easy Cross Stitch Kids - Focus Multimedia

Let Baabara the friendly sheep guide you through a comprehensive introduction to Cross Stitch, from how to stitch and what colours and materials to use, to mounting and framing finished works, transforming your work into a card, pot-pourri bags or even a Christmas stocking. Each fascinating section is packed with lively animations, sounds and video clips that make learning the techniques great fun. Hidden games, such a Babsteriods, or Babs Invaders will keep you entertained for hours. Choose from an extensive library of over 1,600 motifs and designs, then add text, change the colours or flip motifs round to create your own personal designs on the project page.

Finally print out your pattern and shopping list of threads to create your own masterpiece.

PARENT GUIDE: This product will encourage your child to develop: -

Hand to Eye Co-ordination
Listening Skills
Reading Skills
Creativity and Design Skills
Investigative Skills
Memory Recognition
Colour and Shape Recognition
Learn to stitch left or right handed - simply click the required box at the start of the program.
Simple step-by-step instructions, ideal for children or total beginners.
Features over 1,600 designs.
Learn about fabrics, colours, threads, needles and how to finish off your work.
Learn various stitches including cross stitch, start and stop, backstitch, 3/4 stitch, French knots and unpicking.
Watch a demonstration and they try it yourself.
Copy your design to your own project page.
Print your design and a list of the colours of thread that you need.
SCREENSHOTS


---
None Available
VERSIONS


---
Quick & Easy Cross Stitch Kids - Focus Multimedia , £9.99

Compare also:
Cross Stitch - Hot Cross Stitch, £19.99
Quick & Easy Cross Stitch Kids Plus - Focus Multimedia, £14.99
REVIEWS


---
None available
SYSTEM REQUIREMENTS


---
Operating System Windows 95 or Windows 98
CPU Type Pentium 75 or faster
CD-ROM Speed 8x
Hard Drive Space 5Mb
Memory 16Mb or higher
Printer Recommended (Colour)
Graphics 800x600x16 bit colour
Audio 16 Bit SoundBlaster or 100% compatible
PRICING


---
Quick and Easy Cross Stitch for Kids, £9.99


Prices include 17.5% VAT

Email to check latest pricing or stock availability

Check Exchange Rates to convert UK pricing
Postage, Packing & Insurance Rates
1
UK light items (2nd class)
£3 (GBP)
2
UK light items insured (1st class) Any orders over £100
Customers may choose this rate on light items under £100 to speed delivery
£6 (GBP)
3
UK heavy items parcelpost
UK light items next day guaranteed
Europe light items
£9 (GBP)
4
World surface mail
£12 (GBP)
5
Europe heavy items
£15 (GBP)
6
UK heavy items next day guaranteed
World airmail
£18 (GBP)
If you require the outer packaging of your order to be intact for a gift then please add this to any special instructions as normally excess weight is removed before despatch to increase chances of a standard letter box delivery, and thus not require you to wait in to receive your order. Minimum P&P on fully boxed orders is £6
ORDERING


---
Any questions prior to ordering? - Then Email: sales@bmsoftware.com

To order, use the online

If the online ORDER FORM fails for any reason or your product is not yet listed there, or you wish to print and send your order, then fill in the following, hit the Select details button, and copy and paste to your email program or word processor:

Now hit Ctrl+C to copy the selected text to your clipboard and then paste (Ctrl+V) it into your preferred program
CONTACT DETAILS


---
Click here for full Contact Details including postal address, additional phone lines and technical support email.

Whilst we are based in the UK we can ship most items internationally.


| | | | | | | | |
| --- | --- | --- | --- | --- | --- | --- | --- |
| | RETURN TO TOP OF PAGE | | CLOSE WINDOW | | PRINT PAGE | | HOME |