Greenstreet Publisher 4 Gold Edition
Details and specifications of Greenstreet Publisher 4 Gold Edition, £49.99. Listed as editor's choice in PC Magazine July 2002, this is an affordable, easy to use DTP package.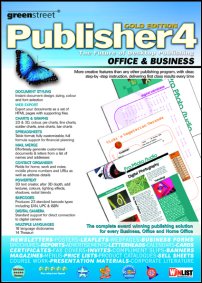 Greenstreet Publisher 4 Gold Edition


Fully featured at a glance:

Hundreds of templates in 4 languages: English, French, German & Spanish
Download many more from the web.

Document styling
Instant document design, sizing, colour and font selection.

Web export
Export your documents as a set of HTML pages with supporting files.

Web authoring
If you need to edit the web pages just simply return to your original documents, make your changes and export again.

Barcoding
Use barcodes to represent numbers, text or even mailmerge fields. Publisher 4 Gold supports many different barcode standards, such as EAN, UPC, ISBN or Code 39.

Charts & graphs
2D & 3D, colour,
pie charts,
line charts,
scatter charts,
area charts,
bar charts.
Spreadsheets
Table format,
fully customisable,
full formula support for financial planning.
Contact organiser
Home, work and notes, field for mobile phone and URLs as well as address details.

Mailmerge
Print standard documents with varying information quickly and easily. You can even use exported data from third-party applications!

3D PowerText
25 layers,
3D text creator,
add textures,
colours,
lighting effects,
shadows,
radial blends,
add pictures.
Frames
25 fill styles,
rotate,
resize,
change borders,
tile pictures.
Pictures
Stretch,
adjust brightness,
contrast & colour,
fade,
make colours transparent.
Lines
10 arrowheads,
dashed,
adjust thickness.
Text frames & lines
Rectangle,
rounded box,
ellipse,
star,
self draw.
Drawing tools
Lines,
curves,
freehand,
ellipses,
rectangle,
custom stars,
picture editor.
Text tools
Spell checker,
thesaurus,
numbers/bullet points,
headers/footers and
font styles.
Printing

CMYK colour separations & spot colour. PhotoFX

A must-have photo editing program packed with essential tools. Once you've used this photo editing software it will become part of your essential tool kit for fast editing of photographs. Features include cropping, rotating, flipping, brightness & contrast.. Utilities
Font Manager
SnapShot
KeyPad
Picture Browser


Extra Extra Extra
Hundreds of clipart, fonts and photos to get you off to a flying start.
True type fonts with European characters and all with the Euro symbol.
Fully scalable vector clipart, all in colour and royalty free.
Great quality photographs taken by professionals.
Dramatic 3D text samples that you can edit with your own text.
Additional Utilities
Picture Browser
Export in 10 different formats using the save as function.
JPEG Bitmap (Internet), PCX Bitmap, PNG Bitmap, Tiff Bitmap, Targa Bitmap, Photoshop Bitmap, Windows Bitmap, Windows Metafile, Metafiles can also be exported as CGM & GEM formats. Drag&Drop your chosen image into any application that supports OLE2 with greenstreet®'s Picture Browser. Unsupported formats can be automatically converted into a generic format to work with your chosen application.
Snapshot
An excellent utility to capture images on your screen. You can capture the screen, window, region or object and export in three file formats, WMF, TIF, or PCX. Select your hotkey in preferences for quick, easy and effective usage. A perfect complement.
Font Manager
Preview print, install any number of fonts at one time, double click on preview for more detail. Categorise your fonts and use with existing fonts.
KeyPad
An incredibly useful utility for locating special characters not available on a standard keyboard. Alt+0128 will take you directly to the Euro symbol.
Technical support
Full telephone and on-line support 9.00am - 5.30pm, 5 days a week
SCREENSHOTS


---
None Available
REVIEWS


---
None available
VERSIONS


---
Greenstreet Publisher 4 Gold Edition, £49.99

Compare also:
Serif Page Plus 8, £79.99
Microsoft Publisher 2002, £104.99
GSP Power Publisher
SYSTEM REQUIREMENTS


---
PC Windows 95 / 98 / ME / NT4 / 2000 / XP

Minimum requirements:
P166,
16MB RAM,
170 MB Free HDD Space,
SVGA Graphics,
CD-ROM drive,
Internet Explorer 5.5 (included)
PRICING


---
Greenstreet Publisher 4 Gold Edition, £49.99


Prices include 17.5% VAT

Email to check latest pricing or stock availability

Check Exchange Rates to convert UK pricing
Postage, Packing & Insurance Rates
This product is heavy/valuable and attracts the higher P&P rates and may require a signature upon delivery
1
UK light items (2nd class)
£3 (GBP)
2
UK light items insured (1st class) Any orders over £100
Customers may choose this rate on light items under £100 to speed delivery
£6 (GBP)
3
UK heavy items parcelpost
UK light items next day guaranteed
Europe light items
£9 (GBP)
4
World surface mail
£12 (GBP)
5
Europe heavy items
£15 (GBP)
6
UK heavy items next day guaranteed
World airmail
£18 (GBP)
If you require the outer packaging of your order to be intact for a gift then please add this to any special instructions as normally excess weight is removed before despatch to increase chances of a standard letter box delivery, and thus not require you to wait in to receive your order. Minimum P&P on fully boxed orders is £6
ORDERING


---
Any questions prior to ordering? - Then Email: sales@bmsoftware.com

To order, use the online

If the online ORDER FORM fails for any reason or your product is not yet listed there, or you wish to print and send your order, then fill in the following, hit the Select details button, and copy and paste to your email program or word processor:

Now hit Ctrl+C to copy the selected text to your clipboard and then paste (Ctrl+V) it into your preferred program
CONTACT DETAILS


---
Click here for full Contact Details including postal address, additional phone lines and technical support email.

Whilst we are based in the UK we can ship most items internationally.


| | | | | | | | |
| --- | --- | --- | --- | --- | --- | --- | --- |
| | RETURN TO TOP OF PAGE | | CLOSE WINDOW | | PRINT PAGE | | HOME |