Details and specifications on: Mindscape's PrintMaster 11 Premier, £59.99. 202,000+ Premium Images, 11,000+ Project Templates, Easily Create - Greetings Cards, Banners, Invitations, Newsletters, Photo Projects, Homework Helpers, Crafts, Calenders, Theme Party Sets and much more.

Now available again, after months of waiting, however it is in very short supply!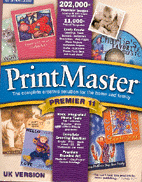 PrintMaster 11 Premier from Mindscape. Enjoy access to 202,000+ Premium Images, 11,000+ Project Templates, easily create:
Greetings Cards
Banners
Invitations
Newsletters
Photo Projects
Homework Helpers
Crafts
Calenders
Theme Party Sets and much more


Easy, Intergrated Photo Tools - Edit, Enhance, Organise, Artistic Effects and more!

Complete Greeting Solution - Create, Print, E-mail, 2D, 3D and more

Premium Branded Art - MasterArt, ClueFinders, Carmen Sandiego

Printmaster offers a complete selection of tools, content and resources to easily create beautiful printed pieces, manage personal images and share with anyone, in print, all from one complete software program.

Premium Art, Ready-Made projects and so much more.

Go online for over 25,000 images and 3,000 projects. Visit us often to see what's new. Registration required. No purchase necessary.

PrintMaster is the No 1 rated, award-winning print title for its unique project templates.

Projects include Greeting cards, Invitations, Kid's crafts, Homework helpers, Party sets, Home and garden crafts and much more!

There are thousands of ready-made templates and images to choose from. Personalise any project with a photo, sentiment or your own words.
Pick - from thousands of professionally designed templates or start from scratch

Personalise - projects with your own photos, messages, images and imagination

Print

Pass it along - to your family and friends and watch them creating banners, invitations, cards, newsletters and much more more.
SCREENSHOTS


---
None Available
REVIEWS


---
None available
VERSIONS


---
PrintMaster 11 Premier, £59.99

Compare also:
PrintMaster 11 Deluxe, £59.99
PrintMaster 11 Suite, £39.99
Serif PagePlus, £59.99
Print Shop Pro 10 from Broderbund, £59
Art Explosion greeting Card Factory Deluxe, £29.99
Art Explosion greeting Card Factory Deluxe

SYSTEM REQUIREMENTS


---
Windows 95 or higher

PRICING


---
PrintMaster 11 Premier, £59.99
Postage, Packing & Insurance Rates
1
UK light items (2nd class)
£3 (GBP)
2
UK light items insured (1st class) Any orders over £100
Customers may choose this rate on light items under £100 to speed delivery
£6 (GBP)
3
UK heavy items parcelpost
UK light items next day guaranteed
Europe light items
£9 (GBP)
4
World surface mail
£12 (GBP)
5
Europe heavy items
£15 (GBP)
6
UK heavy items next day guaranteed
World airmail
£18 (GBP)
If you require the outer packaging of your order to be intact for a gift then please add this to any special instructions as normally excess weight is removed before despatch to increase chances of a standard letter box delivery, and thus not require you to wait in to receive your order. Minimum P&P on fully boxed orders is £6
Order direct from BMSoftware
ORDERING


---
Any questions prior to ordering? - Then Email: sales@bmsoftware.com

To order, use the online

If the online ORDER FORM fails for any reason or your product is not yet listed there, or you wish to print and send your order, then fill in the following, hit the Select details button, and copy and paste to your email program or word processor:

Now hit Ctrl+C to copy the selected text to your clipboard and then paste (Ctrl+V) it into your preferred program
CONTACT DETAILS


---
Click here for full Contact Details including postal address, additional phone lines and technical support email.

Whilst we are based in the UK we can ship most items internationally.


| | | | | | | | |
| --- | --- | --- | --- | --- | --- | --- | --- |
| | RETURN TO TOP OF PAGE | | CLOSE WINDOW | | PRINT PAGE | | HOME |