Details and specifications of Paint Shop Pro 8, £79. A graphics editing package, with much more,.... Buy Paint Shop Pro 8 now.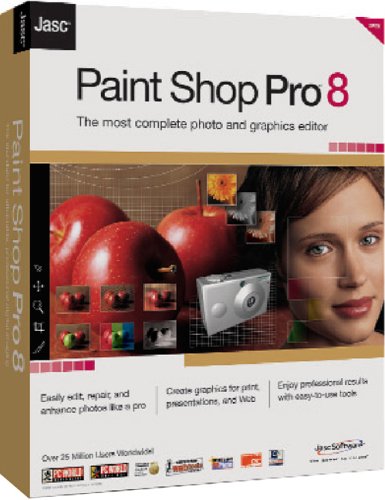 The latest version of this excellent product from JASC has finally arrived, and makes the wait worthwhile.

Edit, enhance, and repair photos with easy-to-use tools that help you get results with minimal effort. With this unique set of automatic and precision tools you can produce professional results with power and ease.

Manipulate images from digital cameras and scanners
Fix distorted perspective in photos easily with the Perspective Correction tool. Straighten a tilted or crooked photo without any guesswork using the Straighten tool. Browse, sort, rotate, and rename image thumbnails in a single window. Crop, Resize, and Rotate images. View EXIF information transferred from your camera.

Produce images rich in color and detail
Choose from automatic or manual color, contrast, brightness, and saturation adjustments. Use One Step Photo Fix to apply a series of photo enhancements in one click to single images or batches of image. Fix the most challenging photos using dozens of specialty adjustments. Correct color without altering your image with editable Adjustment Layers. Use Manual Color Correction to match exact colors from one image to another.

Retouch photos to enhance natural beauty
Bring out detail with powerful retouch brushes including Dodge, Burn, and Red Eye Remover. Use the automatic Scratch Remover to repair damaged photos and the Clone tool to remove unwanted elements. Hand tint old photos bringing them to life. Restore faded color from old photographs with the Fade effect. Produce a soft, romantic effect with the Soft Focus filter.

Compose photos full of depth and imagination
Use the precision Background Eraser, a Jasc exclusive, to remove unwanted background while retaining and preserving fine detail (e.g. hair, grass) from the original photo. Create imaginative images with the Warp Brush and Mesh Warp. Isolate an area of your image for further manipulation using the many modes of the Selection tool. Use Masks, Layers, and Layer Groups for ultimate control and creative freedom. Add Borders, Frames, and Edges to compositions for a creative finishing touch.

Spark your creativity with powerful special effects
Use the Effects Browser to view the creative possibilities applied to your active image. Choose from more than 100 special effects including Balls and Bubbles, Halftone, Brushstrokes, Mosaic Tiles, and Seamless Tiling to add professional touches to your photos and graphics.

Work smart with unparalleled power and simplicity
Work smarter by automating repetitive tasks, working in batches, personalizing Paint Shop Pro to your unique workflow, and learning new features quickly. Whether you learn by watching, doing, or reading, Paint Shop Pro's integrated learning system can accommodate your style.

Save time
Record, edit, and save commonly used tasks with Automated Productivity Scripts™. Apply scripts to a single image or batches of images. You can also create and save your own tool or effect presets to reuse or share.

Personalize Paint Shop Pro
Using Dynamic Personalization™ you can tailor a work environment that's perfect for you. New palette docking options, custom toolbars, and the ability to place any tool or command on any menu or toolbar in the program lets you customize Paint Shop Pro to your liking. Plus, you can save your custom workspaces or choose from a variety of preset workspaces for different workflow options.

Get started fast Learn by watching. With over 40 movies the Paint Shop Pro Product Tour shows you how to use new features, plus provides helpful hints on all kinds of creative projects. Learn by doing using Quick Guides that step you through projects as you follow along on your own image. Learn by reading. Paint Shop Pro's Help file and printed User Guide are filled with examples and detailed information on projects and features.

Print with ease
Choose from hundreds of templates to accommodate any printing project. Supports many standard photo sizes, combination packs, and commercial papers. Plus you can create your own custom templates to reuse or share.

Convert to virtually any file format
With support for nearly 50 formats, Paint Shop Pro lets you convert the newest file formats including: JPEG 2000, enhanced EPS PostScript 3, and wireless bitmap (WBMP).

Read on for the list of the new tools and capablities...

Browse effects
Use the Effects Browser to view the creative possibilities applied to your active image.

Set black and white points
Precisely correct color with the Black and White Points effect that allows you to rebalance the highlights, midtones, and shadows of your photo to a full range of colors.

Correct distortions
The Lens Distortion Correction effects correct common pincushion, fisheye and barrel distortions.

Produce a romantic effect
Add soft, romantic lighting to your photos using the Soft Focus effect.

Halftone your images
Reproduce halftone process used in printing with the Halftone effect. Pixels in the image are replaced with dots, squares or lines at various screen angles.

Add balls and bubbles
Create 3D balls or transparent bubbles anywhere on your image with the Balls and Bubbles effect. Control the light source, density, bump maps, and environment maps for complete texture creation.

Call attention to your image
Use the Magnifying Lens effect to bring attention to a portion of your image by placing a magnifying lens over it – control the magnification level, size, frame style, and much more.

Create Web page backgrounds
Create high-quality seamless patterns and tiled images for Web pages, presentations, photos, or other creative projects with Seamless Tiling and the Offset effect.

The new photo editing and painting tools in Paint Shop Pro 8 simplify complicated tasks. Now, novice and advanced users can produce professional results with power and ease.

Correct perspective
Fixing distorted perspective in photos is no longer a cumbersome task with the Perspective Correction tool. With this great timesaver distorted photos can be fixed by simply placing handles along the path to be corrected and the selection becomes rectangular.

Straighten photos
Straighten a tilted or crooked scan or photo without any guesswork using the Straighten tool. Your image is automatically fixed by positioning a guideline along an object that should be horizontal or vertical. Simultaneously crop your straightened image to save time.

Erase backgrounds
Unlike the regular Eraser tool, which erases all pixels under the brush, the precision Background Eraser detects and erases pixels along the strongest edge, making it a snap to remove background areas from your photographs. Even areas of fine detail, such as hair or grass, are detected and preserved.

Warp images
Use the Warp Brush to stretch, shrink, twist, or push your photos to create imaginative images. Or use the Mesh Warp to distort or alter an image using a mesh overlay on top of the image.

Paint naturally
Enjoy greater precision and control with the new Painting Engine. Now you can save custom brush tips to use with any brush tool or share with others. Plus expanded brush variance options deliver more flexibility and artistry to your mouse or digital tablet.

Edit Selection Mode
In this mode, selections are treated as a layer allowing you to use the raster painting, drawing tools, and effects to modify the selection marquee.

Selection Tools
Switch between selection modes to maximize each mode's strengths, including the new Edge Seeker mode for more flexibility when creating a selection along weaker edges.

Mask Layers
Masks are created as grayscale adjustment layers, making it easy to create and edit masks to create stunning compositions.

Layer Groups
Group common elements of an image to be viewed, moved, or hidden as a single unit for ultimate control over layered images.

Pen Tool
Combines the Line tool and Node Edit features in a single tool, making vector-based illustration and editing easier than ever.

Text Tool
The redesigned Text tool, featuring character-by-character formatting and automatic on-screen text proofing, makes it easier to add text to your images.

SCREENSHOTS


---
Use you back button to return to this page after viewing the screenshots.

Screenshot 1 | Screenshot 2 | Screenshot 3 | Screenshot 4
REVIEWS


---
None available
VERSIONS


---
Paint Shop Pro 8, £79, Buy

Compare also:
Ulead PhotoImpact 8, £89 (version 7 also available)
Serif PhotoPlus 8, from £69
Adobe PhotoShop 7, from £135
Photo Explosion, £49.95

SYSTEM REQUIREMENTS


---
Minimum


Pentium® processor or equivalent
Microsoft® Windows® 98 SP2 or 98 SE SPI, NT4 SP6a, 2000, ME, XP
128 MB of RAM
200 MB of free disk space
16-bit color display adapter at 800x600 resolution
Microsoft Internet Explorer 5.0 or later


Recommended


1.0 Ghz or better processor
256 MB of RAM
32-bit color display adapter at 1024x768 resolution
Microsoft Internet Explorer 6.0 or later
PRICING


---
Paint Shop Pro 8, £79, Buy.


Prices include all applicable taxes

P&P will be charged at "light/heavy items" rates (1/2/3 or 3/6) - click here for full Postage & Delivery Details including shipping rates within the UK, Europe and worldwide, and next day before midday options.

Email to check latest pricing or stock availability

Check Exchange Rates to convert UK pricing or Email us with your country and/or currency for a quote.


ORDERING


---
Any questions prior to ordering? - then email: Sales, otherwise proceed to the Order Form.

If the online Order Form fails for any reason or your product is not yet listed there, or you wish to print and send your order, then fill in the following, hit the [Select details] button below, and copy and paste to your email program or word processor:

Now hit Ctrl+C to copy the selected text to your clipboard and then paste (Ctrl+V) it into your preferred program Make sure you read our Terms and Conditions.
CONTACT DETAILS


---
Click here for full Contact Details including postal address, additional phone lines and technical support email.

Whilst we are based in the UK we can ship most items internationally.


| | | | | | | | | | |
| --- | --- | --- | --- | --- | --- | --- | --- | --- | --- |
| | RETURN TO TOP OF PAGE | | CLOSE WINDOW | | PRINT PAGE | | HOME | | TERMS AND CONDITIONS |