| | | |
| --- | --- | --- |
| | Lotus SmartSuite Millennium Edition 9.7 OEM | |


Details and specifications of Lotus's SmartSuite Millennium Edition 9.7 OEM, £25.00 (GBP inc VAT RRP £225.60). The office package from lotus that includes file filters from earlier versions of SmartSuite and Microsoft Office. [Buy now] or call us on 0870 360 3699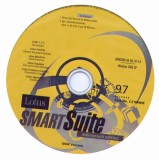 Lotus
SmartSuite Millennium Edition 9.7 OEM
Lotus Smart Center - The information manager that gives you easy access to all your work.
Lotus FastSite - The document publishing tool for the Web.
Lotus 1-2-3 - The spreadsheet that revolutionized the world.
Lotus Word Pro - The best word processor for today's connected world.
Lotus Approach - The high-powered database the whole team can use.
Lotus Freelance Graphics - The presentation graphics package for everyday communication.
Lotus Organizer - Time management for people who are going places.
Lotus ScreenCam - The show-and-tell communication tool for your personal computer.
With SmartSuite 9.7, it is easy to convert files from earlier versions of SmartSuite and other business applications including Microsoft Office. SmartSuite 9.7 file filters exchange documents seamlessly to and from Word Pro and Microsoft Word, 1-2-3 and Excel, or Freelance Graphics and PowerPoint. The power of SmartSuite 9.7 combined with Lotus Notes and the Internet, make SmartSuite the industry's most complete suite for addressing the needs of both enterprise and individual users.

Please Email or Call 0870 360 3699 to enquire about site licenses, network versions, bulk discounts or educational pricing.

[Buy now] or call us on 0870 360 3699

Manufacturer's Product Code: Lotus - BMSoftware Product Code: LSSME9
SCREENSHOTS


---
REVIEWS


---
Reviews, tests and comparisons of Lotus office software: Review from Tim Nott, Personal Computer World 30 Apr 2004 giving a 3 out of 5 rating but typically 5 out of 5 from users
"Lotus Smartsuite comes well-equipped ... easy interface ... friendly and well featured "

Review from Sarah Pike, PC Mag 4 Sep 2002 giving a 3 out of 5 rating but typically 5 out of 5 from members
"Lotus Notes integration and strong collaboration tools...Lotus 1-2-3 has one very useful feature: Its keyboard shortcuts are the fastest way to enter any menu command"

Review from Adam Banks, Computer Shopper giving a 3 out of 5 rating
"SmartSuite has its fans, and it's cheaper than the other mainstream office suites. Freelance Graphics is available as part of the suite. Its tabbed user interface is straightforward and the program runs briskly."

Review from IT Reviews 25/09/1998
"this is a comprehensive collection of office applications, most of which are well integrated. With its in-depth Web support, speech recognition capabilities and handy tools such as Organizer, there's really not much that this package can't do. If your company is in the market for a new office suite, don't assume it's a one horse race."
SYSTEM REQUIREMENTS


---
Windows PC
Pentium Processor
Yes
RAM 16MB(98/Me)/48MB(NT)/64MB(2000)/128MB(XP), 268 MB HD space, CDROM, VGA display, Mouse
Apple MAC
N/A
Purchase Virtual PC first
Linux
N/A
VERSIONS, OPTIONS & ALTERNATIVES


---
| | | | | | |
| --- | --- | --- | --- | --- | --- |
| Lotus | SmartSuite Millennium Edition 9.7 OEM | £25.00 | (RRP £225.60) | [LSSME9] | Buy or Phone 0870 360 3699 |

Compare also:


PRICING


---
| | | | | | |
| --- | --- | --- | --- | --- | --- |
| Lotus | SmartSuite Millennium Edition 9.7 OEM | £25.00 | (RRP £225.60) | [LSSME9] | Buy or Phone 0870 360 3699 |

Also see alternative versions and products above

Prices are in £GBP and include all applicable taxes (VAT etc)

P&P will be charged at "light/heavy items" rates
(Some valuable items may have to go special delivery and packages may have outer packaging or inner boxing removed to save weight, if this is a gift or for resale please request intact boxes)

See our full Postage & Delivery Details including shipping rates within the UK, Europe and worldwide, first class and next day before 9 AM and 12 Noon, same day options.

Email to check latest pricing or stock availability or for a bulk discount quote of up to 40%.

Check Exchange Rates to convert UK pricing or Email us with your country and/or currency for a quote.


ORDERING


---
Any questions prior to ordering? - then email: Sales or call us on 0870 360 3699, otherwise proceed to the Order Form.

If the online Order Form fails for any reason or your product is not yet listed there, or you wish to print and send your order, then fill in the following, hit the [Select details] button below, and copy and paste to your email program or word processor:

Now hit copy (Ctrl+C) the selected text to your clipboard and then paste (Ctrl+V) it into your preferred Email program or click here to launch your Email editor.
CONTACT DETAILS


---
Click here for full Contact Details including postal address, additional phone lines and technical support email.

Whilst we are based in Norwich, Norfolk in the UK we can ship most items internationally.


RETURN TO
TOP OF PAGE

CLOSE
WINDOW

PRINT
PAGE

HOME
PAGE

TERMS AND
CONDITIONS

HELP ON USING
THIS SITE