| | | |
| --- | --- | --- |
| | KidSpeak 6 in 1 Mini Sierra | |
Details and specifications of KidSpeak 6 in 1 Mini Sierra, £29.95. A perfect way to get your child started in 6 languages, building a solid foundation using the successful immersion approach preferred by educators...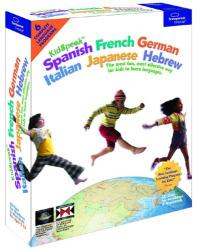 KidSpeak is a language–learning breakthrough that makes learning a second language easy for kids of all ages. Your children will love the delightful combination of enjoyable animation, fun activities, and interactive games, puzzles and songs that make up this award-winning educational software program. It's the perfect way to get your kids started with a new language.

6-in-1 KidSpeak contains the full programs for these languages all in one package!
Italian
French
German
Hebrew
Spanish
Japanese


Your Child Will Learn These Vital Language skills


Correct pronunciation
Alphabet recognition
Word recognition
Understanding simple sentences
Using plural forms
Using singular forms
Telling time
Matching numbers to written words
Simple addition
Simple subtraction


Over 700 Words and Expressions


Greetings
Types of Clothing
Fruits and vegetables
Numbers
Animal names
Dates and times
Colors
Parts of the body
Everyday items
School supplies
Sporting goods
Weather terms
As a parent, if you want your child to take advantage of the language-learning "window of opportunity," you must take an active role. And there is no better tool than your computer and KidSpeak to start your child on a second language. With KidSpeak, your child can interact with authentic foreign language sounds, words and phrases, games, puzzles, and songs. If you can place a disc in your computer's CD-ROM drive, you know all you need to know to get your child off and running in another language.

Your child will build a solid foreign language foundation using the successful immersion approach preferred by educators. Each language is hosted by a fun cartoon "friend" and his or her playful pet who use only the language being taught. Your child simply points and clicks.

Award-winning Educational Software

KidSpeak was designed and developed by leading educators to take advantage of the intuitive language learning abilities of grade school children. KidSpeak's innovative award-winning approach has no drills, tests or anything unpleasant. Children simply look forward to "playing" with their animated friends every day, while you know they are "learning".

Awards

New York Festival's Interactive Multimedia Competition for the Best Educational/Instructional Programs Produced for use in Schools

K-12 Educational CD-ROM award at the 4th Annual International Digital Media Awards

"The designers have achieved their aim of making the program fun, challenging, absorbing and entertaining" - The Age, November 1997

Plus! Each KidSpeak language includes 12 printable activities and projects to reinforce learning.

SCREENSHOTS


---
Use you back button to return to this page after viewing the screenshots.

Screenshot 1 | Screenshot 2
REVIEWS


---
None available
VERSIONS


---
KidSpeak 6 in 1 Mini Sierra, £29.95

Compare also:

SYSTEM REQUIREMENTS


---
PC:
486 or faster processor
Microsoft Windows 95 or 98
8 MB RAM
2x CD-ROM drive
1 MB SVGA or better video card, with 256-color display
Sound Blaster or compatible sound card


Macintosh:
Power PC 68040 or faster processor
System 7.1 OS or later
8 MB RAM
2x CD-ROM drive
256-color display (640 x 480)
PRICING


---
KidSpeak 6 in 1 Mini Sierra, £29.95


Prices include all applicable taxes

P&P will be charged at "light/heavy items" rates (1/2/3 or 3/6) - see below

Email to check latest pricing or stock availability

Check Exchange Rates to convert UK pricing
Postage, Packing & Insurance Rates
1
UK light items (2nd class)
£3 (GBP)
2
UK light items insured (1st class) Any orders over £100
Customers may choose this rate on light items under £100 to speed delivery
£6 (GBP)
3
UK heavy items parcelpost
UK light items next day guaranteed
Europe light items
£9 (GBP)
4
World surface mail
£12 (GBP)
5
Europe heavy items
£15 (GBP)
6
UK heavy items next day guaranteed
World airmail
£18 (GBP)
If you require the outer packaging of your order to be intact for a gift then please add this to any special instructions as normally excess weight is removed before despatch to increase chances of a standard letter box delivery, and thus not require you to wait in to receive your order. Minimum P&P on fully boxed orders is £6
ORDERING


---
Any questions prior to ordering? - Then email: sales@bmsoftware.com.

To order, use the online

If the online [Order Form] fails for any reason or your product is not yet listed there, or you wish to print and send your order, then fill in the following, hit the [Select details] button, and copy and paste to your email program or word processor:

Now hit Ctrl+C to copy the selected text to your clipboard and then paste (Ctrl+V) it into your preferred program Make sure you read our Terms and Conditions.
CONTACT DETAILS


---
Click here for full Contact Details including postal address, additional phone lines and technical support email.

Whilst we are based in the UK we can ship most items internationally.


| | | | | | | | |
| --- | --- | --- | --- | --- | --- | --- | --- |
| | RETURN TO TOP OF PAGE | | CLOSE WINDOW | | PRINT PAGE | | HOME |