Details and specifications on: ILSoft's Stitch 2000, £99 (GBP inc VAT RRP £99.99). Professional cross stitch software contains advanced tools, editing features and functions necessary to create the very highest quality stitch designs suitable for working in cross stitch, tapestry, and more. [Buy now] or call us on 0870 360 3699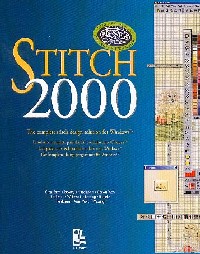 IlSoft Stitch 2000

Now anyone can create professional looking stitch charts using their home PC and IlSoft Stitch 2000. This software contains all of the advanced tools, editing features and functions necessary to create the very highest quality stitch designs suitable for working in cross stitch, tapestry, blackwork, hardanger and most other needlework styles.

Charts can be quickly constructed on screen in full colour with easy to use wizards leading you through the creation of amazing borders and beautiful sampler lettering. There is a massive range of ready to use motifs and small designs included, so only very minimal drawing skills are needed to create stunning and effective results.

Designs can also be created instantly from scanned photographs, computer clip art, digital camera captures or any other computer graphic with colours matched to your favourite stranded cotton or wool shade range.

Features and Functions Include:
Easy to use with friendly wizards to guide you through procedures

Huge range of built in standard stitch types plus custom stitches, blackwork repeats etc

Techniques that this program supports are Cross Stitch, Tapestry, Needlepoint, Canvas Work, Blackwork, Whitework, Beading, Bargello, Hardanger, Assisi Work and many other counted stitch work.
500x500 grid design area- big enough for even the largest project

The largest range of manufacturer's cotton and wool colours

Amazingly realistic fabric simulations show how the finished stitched piece will appear, view your design on different coloured Aida, Linen, or Canvas before you start to stitch.

100 drawing colours per chart

5000 Motifs, 200 Easy to use Blackwork Fills
Automatic sampler text drawing, backstitch outlining and print symbol allocation

Import and convert computer graphics to stitching charts

Acquire images directly from your Scanner or Digital Camera

Full thread and fabric usage reported for every design, automatically selected to match what you scanned

Print in a wide range of different colour and black & white designs
The program also includes a range of realistic Aida, linen, tapestry canvas, plastic canvas and rug canvas fabric simulations. These can be used to give an impression of exactly how the design will look when it has been stitched. The simulations can be printed, removing the need for expensive stitched models of designs and it is even possible to input designs directly to the simulations, adding and deleting stitches directly to and from the fabric!

A built in pattern information function reports the size of the completed design, the size of fabric required and the number of stitches and lengths of floss required in each different thread colour. The information can be specified for any count of fabric.

When a design has been completed, it may be printed out to any Windows printer in a variety of styles including:
Black And White Symbols
Coloured Blocks
Coloured Symbols
Coloured Blocks With B/W Symbols Overlaid
Backstitch (Grid and symbols greyed. Backstitch solid)
Fabric (Aida, Linen or Tapestry/Rug/Plastic Canvas)
Weaving (Numbers replace symbols)
The charts produced are crisp, clear, consistent and easy to read.

IlSoft Stitch 2000 is endorsed by Anchor, DMC, Maderia, Patternayan, and Paterna.
SCREENSHOTS


---
Use you back button to return to this page after viewing the screenshots. Hover over the link to see a description of the screenshot.

Screenshot 1 | Screenshot 2 | Screenshot 3 | Screenshot 4 | Screenshot 5 | Screenshot 6 | Screenshot 7
REVIEWS


---
None available
VERSIONS, OPTIONS & ALTERNATIVES


---
IlSoft Stitch 2000, £99

Compare also:
IlSoft Premium Plus 2000, £249 - the professional version from IL Soft
SYSTEM REQUIREMENTS


---
IBM compatible PC, Win 95/98/2000/NT/XP (new XP compatible version)
4 MB free HD space, 32MB RAM
SVGA colour capability
CD ROM drive, 3.5" floppy disc drive
2 or 3 button mouse.

PRICING


---
IlSoft Stitch 2000, £99
Prices are in £GBP and include all applicable taxes (VAT etc)

P&P will be charged at "heavy items" rates
(Some valuable items may have to go special delivery and packages may have outer packaging or inner boxing removed to save weight, if this is a gift or for resale please request intact boxes)

See our full Postage & Delivery Details including shipping rates within the UK, Europe and worldwide, first class and next day before 9 AM and 12 Noon, same day options.

Email to check latest pricing or stock availability

Check Exchange Rates to convert UK pricing or Email us with your country and/or currency for a quote.


ORDERING


---
Any questions prior to ordering? - then email: Sales or call us on 0870 360 3699, otherwise proceed to the Order Form.

If the online Order Form fails for any reason or your product is not yet listed there, or you wish to print and send your order, then fill in the following, hit the [Select details] button below, and copy and paste to your email program or word processor:

Now hit copy (Ctrl+C) the selected text to your clipboard and then paste (Ctrl+V) it into your preferred Email program or click here to launch your Email editor.
CONTACT DETAILS


---
Click here for full Contact Details including postal address, additional phone lines and technical support email.

Whilst we are based in Norwich, Norfolk in the UK we can ship most items internationally.


RETURN TO
TOP OF PAGE

CLOSE
WINDOW

PRINT
PAGE

HOME
PAGE

TERMS AND
CONDITIONS

HELP ON USING
THIS SITE