Details and specifications on: Hemera Big Box of Art 215,000 MAC, £59.95. A collection of royalty-free clip art, illustrations, photo objects, and vector clip art for all your creativity requirements! Comes in different sizes, available for MAC or PC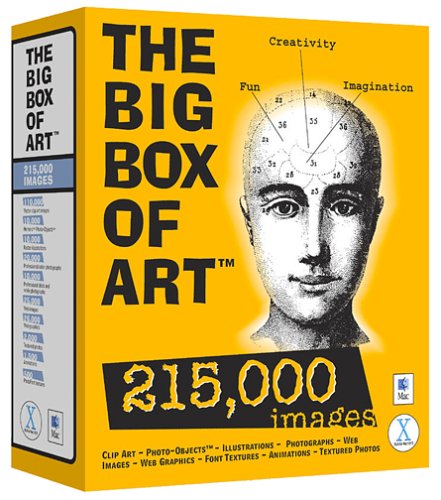 Hemera Big Box of Art 215,000 MAC The perfect clip art collection for the Mac®!

The Big Box of Art™ 215,000 for Macintosh® is refreshingly different from other clip art packages. It features over 215,000 royalty-free images and an easy-to-use keyword search engine - all in one convenient box. Perfect for use in all popular graphic design, Web design, word processing and presentation applications for the Mac®!

The Big Box of Art 215,000 includes:
110,000 vector clip art images
10,000 Hemera™ Photo-Objects™ images
10,000 raster illustrations
20,000 professional color photographs
10,000 professional black and white photographs
25,000 images pre-optimized for Web use
26,000 Web graphics
2000 textured photos
1,500 animations
500 PhotoFont textures
Free Bonus Software

Hemera™ PhotoFont Maker

Do something useful with all those fonts gathering dust on your hard drive. Hemera PhotoFont Maker fills your fonts with photographic textures. Use the included textures or insert your own!

If you're hungry for high-quality, pre-masked photo images, try Hemera Photo-Objects 50,000! Click here to buy or learn more.


SCREENSHOTS


---
None Available
REVIEWS


---
None available
VERSIONS


---
Hemera Big Box of Art 215,000 MAC 100,000, £59.95 Other Sizes available
Hemera Big Box of At 100,000, £19.99
Hemera Big Box of At 350,000, £29.95
Hemera Big Box of At 615,000, £59.99
Hemera Big Box of At 800,000 MAC, £39.95

Also Available:

Hemera Photo Objects 5,000, £9.99
Hemera Photo Objects 10,000, £14.95
Hemera Photo Objects 25,000, £29.99
Hemera Photo Objects 50,000 Volume 1, £64.99
Hemera Photo Objects 50,000 Volume 2, £64.99


SYSTEM REQUIREMENTS


---
Min Requirements:
PowerPC 233 MHz or faster processor
Mac OS 9.0 or later, OS X
64 MB RAM
400 MB hard disk space
CD-ROM drive
256-color display
PRICING


---
Hemera Big Box of Art 215,000 MAC, £59.95


Prices include 17.5% VAT

Email to check latest pricing or stock availability

Check Exchange Rates to convert UK pricing
Postage, Packing & Insurance Rates
This product is heavy/valuable and attracts the higher P&P rates and may require a signature upon delivery
1
UK light items (2nd class)
£3 (GBP)
2
UK light items insured (1st class) Any orders over £100
Customers may choose this rate on light items under £100 to speed delivery
£6 (GBP)
3
UK heavy items parcelpost
UK light items next day guaranteed
Europe light items
£9 (GBP)
4
World surface mail
£12 (GBP)
5
Europe heavy items
£15 (GBP)
6
UK heavy items next day guaranteed
World airmail
£18 (GBP)
If you require the outer packaging of your order to be intact for a gift then please add this to any special instructions as normally excess weight is removed before despatch to increase chances of a standard letter box delivery, and thus not require you to wait in to receive your order. Minimum P&P on fully boxed orders is £6
ORDERING


---
Any questions prior to ordering? - Then Email: sales@bmsoftware.com

To order, use the online

If the online ORDER FORM fails for any reason or your product is not yet listed there, or you wish to print and send your order, then fill in the following, hit the Select details button, and copy and paste to your email program or word processor:

Now hit Ctrl+C to copy the selected text to your clipboard and then paste (Ctrl+V) it into your preferred program
CONTACT DETAILS


---
Click here for full Contact Details including postal address, additional phone lines and technical support email.

Whilst we are based in the UK we can ship most items internationally.


| | | | | | | | |
| --- | --- | --- | --- | --- | --- | --- | --- |
| | RETURN TO TOP OF PAGE | | CLOSE WINDOW | | PRINT PAGE | | HOME |