| | | |
| --- | --- | --- |
| | Hadith Encyclopedia V. 2.1 (Arabic only) | |
Details and specifications of Hadith Encyclopedia V. 2.1 (Arabic only) , £69.99. Contains more than 62,000 Hadiths included in the Nine Authentic Books of Hadith, with diacritzation, textual and thematic search, meaning of difficult words, in addition to other valuable searches.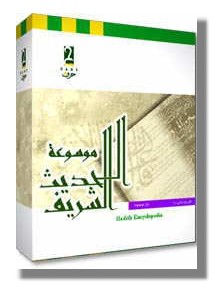 Hadith Encyclopedia V. 2.1

Harf has the honor to introduce the Hadith Encyclopedia program to the Muslim world. This program includes the Nine Books of Hadith, i.e. Sahih Al-Bukhari, Sahih Muslim, Sunan Al-Tirmidhi, Sunan Al-Nasa'i, Sunan Abu Dawud, Sunan Ibn Majah, Musnad Ahmad bin Hanbal, Muwatta' Al-Imam Malik and Sunan Al-Darimi, totaling more than sixty-two thousand Prophetic Hadiths along with their explanations, which equal several thousand pages of text.

Harf has supplied these Hadiths with many juristic features, among which are:

Text verification and checking the names of narrators and outstanding figures


Indexing books, and Hadiths
Morphological analysis and comprehensive vowelization of words
Full information on narrators and their ranks
Explanation of difficult terms
Sorting Hadiths that deal with similar themes
Exposition of difficult words
Takhrij and tracing the chains of transmission


The material for all the above features was collected from more than five hundred Islamic volumes. The program displays each Hadith in various ways:


According to indices According to the order of the book
According to the order of the Encyclopedia
According to the order of the Encyclopedia, ignoring repeated Hadiths.
The user can display and compare the various versions of a Hadith, whether they are different in text or in the chain of narrators.
The program is remarkable for its capability to access any Hadith by searching through different search methods:
Morphological search for words or phrases
Search by narrator.
Search by topic.
Takhrij of Hadith.
Multilevel search that combines all methods above.
The program provides a number of special lexicons and glossaries including:
Indexed lexicons of the Hadith words
Meanings of difficult words
Hadith ambiguities
The program also includes information services represented in:
Biographies of compilers Introductions to the nine books of Hadiths
Bibliography of the program references
The Hadith text and its explanation are displayed on one screen.
To enrich the user's knowledge, the program provides practices on:
Study of Hadith Terminology
Merits of Companions and Prophets
Questions of Jurisprudence
Memorization of Hadiths
The program provides the user with statistics that tell him the number of Hadiths narrated by a narrator and their locations in ong or"anl"tje"books.
Vhg wsgr"ccn"print"any"Hcdktj or"rglctgd"inforoavion"in vhg favabase.
Vhg wsgr"ccn copy the Hadith text with its exact diacritical marks to any word processor.
The user can display the interface language either in Arabic or English.
This program meets the needs of a large sector of average Muslims as well as researchers interested in the study of Hadiths. It is an important contribution to the Islamic library as it is a collection of Hadiths which gained the acceptance of both old and contemporary scholars.
The program is the result of a great effort exerted by a large number of specialists who worked for endless hours to index the contents and provide needed information.
The program has been legally reviewed and approved by Al-Azhar Al-Sharif.
The program runs under Windows 95, 98, NT and 2000.
SCREENSHOTS


---
Use you back button to return to this page after viewing the screenshots.

Screenshots
REVIEWS


---
None available
VERSIONS


---
Hadith Encyclopedia V. 2.1, £69.99

Compare also:
Islamics: Holy Qur'an, £179
Islamics: Islamic Law, £179
Islamics: Encyclopedia of Traditions, £179
Islamics: Islamic Encyclopedia, £449
Holy Qur'an Plus V. 7.01, £59.99

SYSTEM REQUIREMENTS


---
The program runs under Windows 95, 98, NT and 2000.
PRICING


---
Hadith Encyclopedia V. 2.1, £69.99


Prices include 17.5% VAT

P&P will be charged at "light/heavy items" rates (1/2/3 etc3/5/6) - see below

Email to check latest pricing or stock availability

Check Exchange Rates to convert UK pricing
Postage, Packing & Insurance Rates
1
UK light items (2nd class)
£3 (GBP)
2
UK light items insured (1st class) Any orders over £100
Customers may choose this rate on light items under £100 to speed delivery
£6 (GBP)
3
UK heavy items parcelpost
UK light items next day guaranteed
Europe light items
£9 (GBP)
4
World surface mail
£12 (GBP)
5
Europe heavy items
£15 (GBP)
6
UK heavy items next day guaranteed
World airmail
£18 (GBP)
If you require the outer packaging of your order to be intact for a gift then please add this to any special instructions as normally excess weight is removed before despatch to increase chances of a standard letter box delivery, and thus not require you to wait in to receive your order. Minimum P&P on fully boxed orders is £6
ORDERING


---
Any questions prior to ordering? - Then Email: sales@bmsoftware.com.

To order, use the online

If the online ORDER FORM fails for any reason or your product is not yet listed there, or you wish to print and send your order, then fill in the following, hit the Select details button, and copy and paste to your email program or word processor:

Now hit Ctrl+C to copy the selected text to your clipboard and then paste (Ctrl+V) it into your preferred program
CONTACT DETAILS


---
Click here for full Contact Details including postal address, additional phone lines and technical support email.

Whilst we are based in the UK we can ship most items internationally.


| | | | | | | | |
| --- | --- | --- | --- | --- | --- | --- | --- |
| | RETURN TO TOP OF PAGE | | CLOSE WINDOW | | PRINT PAGE | | HOME |