Details and specifications of Draw 4, £29.95. A bargain piece of software for creating and improving graphics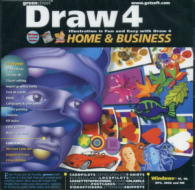 Award winning vector drawing software for all levels of ability. Drawing has never been this enjoyable for everyone! Create images, logos, clipart, free hand drawing etc. for documents, web sites or brochures. Use to make great images for greeting cards, advertising, newsletters, flyers, posters, invitations, stickers, web sites ...and much more.

Featured at a glance

ClipArt editing
Found a piece of clipart but its not the right colour or shape? No problem! Use the Ungroup feature and all the different parts of the clipart will be ready to edit

Blending
Create 3D effects, highlight effects, and illusions of one object morphing into another.

Calligraphy and Your Tablet
Write as if you're using an italic pen. If you have a tablet your control over the line style and thickness will greatly increase

Extrude 3D
Make your illustrations appear 3D with just a click and then adjust by dragging the control points.

Warp Effects
Distort your shapes and pictures into any shape. Select a pre-defined shape for quick transformation

Colour Palette
Control your colour mixes with this feature
If you find it difficult to start a drawing with a blank page then worry no more! You can create a masterpiece by using the individullay drawn images called 'snippets' which are easily found on the CD using the greenstreet™ PictureBrowser

Snippets include: Food, Objects, Symbols, Patterns and Faces.
SCREENSHOTS


---
None Available
REVIEWS


---
None available
VERSIONS


---
Draw 4, £29.95

Compare also:

SYSTEM REQUIREMENTS


---
System

PRICING


---
Draw 4, £29.95


Prices include all applicable taxes

P&P will be charged at "light/heavy items" rates (1/2/3 or 3/6) - see below

Email to check latest pricing or stock availability

Check Exchange Rates to convert UK pricing
Postage, Packing & Insurance Rates
1
UK light items (2nd class)
£3 (GBP)
2
UK light items insured (1st class) Any orders over £29.950
Customers may choose this rate on light items under £29.950 to speed delivery
£6 (GBP)
3
UK heavy items parcelpost
UK light items next day guaranteed
Europe light items
£9 (GBP)
4
World surface mail
£12 (GBP)
5
Europe heavy items
£15 (GBP)
6
UK heavy items next day guaranteed
World airmail
£18 (GBP)
If you require the outer packaging of your order to be intact for a gift then please add this to any special instructions as normally excess weight is removed before despatch to increase chances of a standard letter box delivery, and thus not require you to wait in to receive your order. Minimum P&P on fully boxed orders is £6
ORDERING


---
Any questions prior to ordering? - Then email: sales@bmsoftware.com.

To order, use the online

If the online [Order Form] fails for any reason or your product is not yet listed there, or you wish to print and send your order, then fill in the following, hit the [Select details] button, and copy and paste to your email program or word processor:

Now hit Ctrl+C to copy the selected text to your clipboard and then paste (Ctrl+V) it into your preferred program Make sure you read our Terms and Conditions.
CONTACT DETAILS


---
Click here for full Contact Details including postal address, additional phone lines and technical support email.

Whilst we are based in the UK we can ship most items internationally.


| | | | | | | | |
| --- | --- | --- | --- | --- | --- | --- | --- |
| | RETURN TO TOP OF PAGE | | CLOSE WINDOW | | PRINT PAGE | | HOME |