| | | |
| --- | --- | --- |
| | Global Software Publishing All 3 Tests-In-One Driving Test 2006 | |


Details and specifications of Global Software Publishing's All 3 Tests-In-One Driving Test 2006, £8.95 (GBP inc VAT RRP £9.99). Easy-to-use, fully interactive Atlas of Great Britain and Northern Ireland. [Buy now] or call us on 0870 360 3699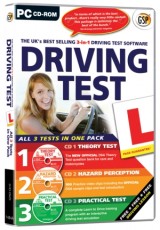 Global Software Publishing All 3 Tests-In-One Driving Test 2006

Covering the 3 key aspects of the driving test; Theory, Hazard Perception and Practical, this new 3 CD-ROM version of our best-selling Driving Test product, contains everything learner drivers need for success on the big day!


Interactive animated help tutorial with professional voiceover for each screen
6 carefully balanced pre-set simulated theory tests based on LDC's (the 3rd largest national driving school in the UK) experience of the most commonly occurring test questions. The tests closely resemble the actual test
Unlimited random mock tests
Printable Theory Test Highway Code Workbook worth £4.99
10 reasons why GSP's DRIVING TEST is the best driving test CD-ROM you can buy!
1. Complete driving test suite that covers all aspects of the Driving Test. Why buy three products when one will do it all!
2. Contains the OFFICIAL DSA question bank for cars and motorcycles – over 1,200 questions and answers with voiceover.
3. Six carefully structured mock theory tests based on the most commonly asked questions and the appearance and structure of the real thing.
4. 100 Hazard Perception Video Clips that accurately simulate the test, including the 10 OFFICIAL DSA sample video clips. The video footage is show from outside the car just like the real test, not from behind the windscreen as with other Hazard Perception software.
5. Includes a comprehensive video explanation of Hazard Perception plus the OFFICIAL DSA introduction to the Hazard Perception test.
6. Six pre-set Hazard Perception Tests which gradually become harder and simulate the real test.
7. Hazard Perception Review Feature to help you analyse, improve and finely tune your hazard perception skills.
8. Show Me, Tell Me video training tutorial for the practical test 9. Interactive Driving Test full of tutorials, an insider's view of what to expect from the practical test, a fault finder and full driving test video game.
10. PASS GUARANTEE – if by using this product you don't pass your theory test, we'll give you £50 worth of GSP software!

HAZARD PERCEPTION Designed to make sure you can think far enough ahead to avoid an accident, Hazard Perception is a key part of the Driving Test:

Comprehensive video explanation of hazard perception principles with examples, plus the OFFICIAL DSA video introduction to the Hazard Perception Test.
100 Hazard Perception video clips that accurately simulate the Hazard Perception test, including the 10 OFFICIAL DSA Hazard Perception sample video clips. All the video footage has been shot from outside the car, in full PAL resolution as on the real test.
Six carefully designed and pre-set simulated Hazard Perception Test almost identical to the real thing. One containing the DSA sample clips.
A random mock test feature giving you a virtually unlimited number of practice tests.
A league table allows you to re-test yourself on your weakest video clips.
Unique review facility shows you exactly where you clicked and where points are scored, with the option to pause at each score point on all practice and test clips.
Practical Lesson plan shows you how to develop your hazard perception skills with the help of your driving instructor.
PRACTICAL TEST
All the essential information needed to pass the practical side of the test is in the software including:

20 illustrated driving lesson plans demonstrating the skills you need to develop in order to pass the test. Includes hundreds of graphical illustrations.
Video training tutorial on the 'Show Me, Tell Me' part of the driving test.
Full digital version of the latest official highway code for viewing or printing.
Multimedia presentation about the driving test with animation, video and professional voiceover. Driving Test fault analysis and correction modules – helps you fix any driving weaknesses identified by the program.
Driving Test Video Challenge Game – view a full driving test whilst taking on the role of the examiner. Points are awarded for correctly marking the Driving Test reports and answering a series of questions about the driving test.
Features 60 minutes of video/animation, 800 illustrations, diagrams and photos. 60 web pages of info and over 150 interactive screens.
THEORY TEST
This CD contains the entire OFFICIAL DSA theory test question bank for cars and motorcycles – over 1200 questions & answers. You can choose how you want to tackle the questions by choosing from the 3 unique learning options:
1.Questions are grouped under the Driving Standards Agency headings
2.Questions are grouped in the order they appear in the Highway Code
3.Questions are grouped to match the order you might face them in your practical driving lessons.

You don't have to stick to the same option each time you practise them. The unique traffic light progress monitor will still pinpoint the questions not yet attempted or answered incorrectly. This allows you to focus on any areas of weakness, decide when you're ready to try one of the mock tests, and be confident that you have covered areas of the theory test thoroughly.

Please Email or Call 0870 360 3699 to enquire about site licenses, network versions, bulk discounts or educational pricing.

[Buy now] or call us on 0870 360 3699

Manufacturer's Product Code: Global Software Publishing - BMSoftware Product Code: GSPOSB
SCREENSHOTS


---
REVIEWS


---
Reviews, tests and comparisons of reference software:
SYSTEM REQUIREMENTS


---
Windows PC
Pentium 600 MHz
Yes
98/Me/2000/XP, 64MB free RAM, 350MB hard disk space required for Theory Test / 620MB hard disk space required for Practical Driving Test , 800 x 600 x16-bit colour display, 16x CDROM, 16-bit sound
Apple MAC

N/A
Purchase Virtual PC first
Linux
N/A
VERSIONS, OPTIONS & ALTERNATIVES


---
| | | | | | |
| --- | --- | --- | --- | --- | --- |
| Global Software Publishing | All 3 Tests-In-One Driving Test 2006 | £8.95 | (RRP £9.99) | [GSPOSB] | Buy or Phone 0870 360 3699 |

Compare also:


PRICING


---
| | | | | | |
| --- | --- | --- | --- | --- | --- |
| Global Software Publishing | All 3 Tests-In-One Driving Test 2006 | £8.95 | (RRP £9.99) | [GSPOSB] | Buy or Phone 0870 360 3699 |

Also see alternative versions and products above

Prices are in £GBP and include all applicable taxes (VAT etc)

P&P will be charged at "light/heavy items" rates
(Some valuable items may have to go special delivery and packages may have outer packaging or inner boxing removed to save weight, if this is a gift or for resale please request intact boxes)

See our full Postage & Delivery Details including shipping rates within the UK, Europe and worldwide, first class and next day before 9 AM and 12 Noon, same day options.

Email to check latest pricing or stock availability or for a bulk discount quote of up to 40%.

Check Exchange Rates to convert UK pricing or Email us with your country and/or currency for a quote.


ORDERING


---
Any questions prior to ordering? - then email: Sales or call us on 0870 360 3699, otherwise proceed to the Order Form.

If the online Order Form fails for any reason or your product is not yet listed there, or you wish to print and send your order, then fill in the following, hit the [Select details] button below, and copy and paste to your email program or word processor:

Now hit copy (Ctrl+C) the selected text to your clipboard and then paste (Ctrl+V) it into your preferred Email program or click here to launch your Email editor.
CONTACT DETAILS


---
Click here for full Contact Details including postal address, additional phone lines and technical support email.

Whilst we are based in Norwich, Norfolk in the UK we can ship most items internationally.


RETURN TO
TOP OF PAGE

CLOSE
WINDOW

PRINT
PAGE

HOME
PAGE

TERMS AND
CONDITIONS

HELP ON USING
THIS SITE