Details and specifications of Fandango, £14.99. Fandango is the fun, fast way to create scrensavers of all kinds for Windows 95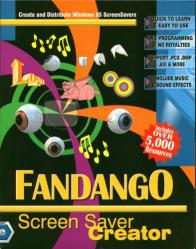 Fandango
is the fast, fun way to create screensavers of all kinds for Windows 95. Its quick and easy to learn and requires absolutely no programming.

You can use any of the hundreds of specially created actors included with the software or incorporate your own graphics, logos, or images, you can even make screensavers from AVI files.

You can make screensavers for your own pleasure, for the company network or for distrbution for promotion or profit...there are no royalties to pay.

Set up your screensaver style with the touch of a button. Choose Bounce, GraviBounce, FlyAway, Rain, Drift, Starburst, Splat or Random. Then customise the settings for effect you want.

Any style can have a range of backgrounds or erase the existing desktop

Fully customise all the settings for almost infinite possibilites. the try the mysterious factor X for a special wacky ingredient.

Add sound effects and music too.

Preview your project as you go and the save it for your own use or as a standalone screensaver for distibution to friends and family, clients and colleagues.


SCREENSHOTS


---
None Available
REVIEWS


---
None available
VERSIONS


---
Fandango, £14.99
SYSTEM REQUIREMENTS


---
Windows 95 or NT4 compatible 486 PC (Pentium recommended)
16MB RAM
CD ROM
Mouse
256 Colour graphics card and monitor
at least 10Mb HD space
Optional Soundcard
PRICING


---
Fandango, £14.99


Prices include 17.5% VAT

P&P will be charged at "light items" rates (1/2/3) - see below

Email to check latest pricing or stock availability

Check Exchange Rates to convert UK pricing
Postage, Packing & Insurance Rates
1
UK light items (2nd class)
£3 (GBP)
2
UK light items insured (1st class) Any orders over £100
Customers may choose this rate on light items under £100 to speed delivery
£6 (GBP)
3
UK heavy items parcelpost
UK light items next day guaranteed
Europe light items
£9 (GBP)
4
World surface mail
£12 (GBP)
5
Europe heavy items
£15 (GBP)
6
UK heavy items next day guaranteed
World airmail
£18 (GBP)
If you require the outer packaging of your order to be intact for a gift then please add this to any special instructions as normally excess weight is removed before despatch to increase chances of a standard letter box delivery, and thus not require you to wait in to receive your order. Minimum P&P on fully boxed orders is £6
ORDERING


---
Any questions prior to ordering? - Then Email: sales@bmsoftware.com.

To order, use the online

If the online ORDER FORM fails for any reason or your product is not yet listed there, or you wish to print and send your order, then fill in the following, hit the Select details button, and copy and paste to your email program or word processor:

Now hit Ctrl+C to copy the selected text to your clipboard and then paste (Ctrl+V) it into your preferred program
CONTACT DETAILS


---
Click here for full Contact Details including postal address, additional phone lines and technical support email.

Whilst we are based in the UK we can ship most items internationally.


| | | | | | | | |
| --- | --- | --- | --- | --- | --- | --- | --- |
| | RETURN TO TOP OF PAGE | | CLOSE WINDOW | | PRINT PAGE | | HOME |