| | | |
| --- | --- | --- |
| | Serif DrawPlus 7 Graphic Design | |
Details and specifications of DrawPlus 7, £69. Absolutely packed with hundreds of new and enhanced features as well as keeping all the outstanding functions of previous versions, so it really is an improvement! Buy DrawPlus 7 now.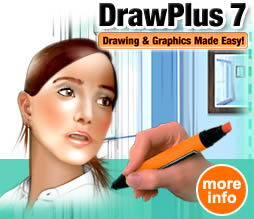 Completely re-engineered from the ground up, using state of the art development tools, processes and the latest technical innovations, DrawPlus 7 really is the ultimate solution to all your drawing and graphics requirements. Better, easier and more powerful than ever, there's no limit to the creative possibilities!

If you've used Serif products in the past, you'll know that our award winning products have always offered high-end features and total ease-of-use at unbelievable prices. With the release of our latest version of DrawPlus, we've added a raft of new features and enhancements to its multi award winning formula, as well as making it easier than ever to use!

Some of the new features include:

PDF Export
With the incredible DrawPlus 7, you can now create industry standard Portable Document Format (PDF) files in an instant. Now you can share your work with other computers, anywhere in the world. A universally recognized format, PDF technology means that everyone gets to see your creation exactly as you intend it to look.

Document Types
A major innovation added for the first time in this completely re-engineered version, DrawPlus 7 now allows you to create amazing multi-page documents. With DrawPlus 7 there's no longer the restriction of working with a single page at a time, allowing you to easily create stunning booklets, greetings cards, or any other multi-page design. Professional Color
In addition to the standard RGB color mode used on screen, DrawPlus now also supports fantastic CMYK color fills. You can specify the exact color you desire by selecting the precise amount of Cyan, Magenta, Yellow and Black ink for the perfect results when professionally printing all your documents.

3D Shapes
The amazing new DrawPlus 7 makes it a snap to convert flat, boring 2D artwork into eye catching 3D masterpieces. With just a few simple mouse clicks, you can create a beautifully rendered 3D shape - it really couldn't be easier! DrawPlus 7 allows all your artwork to take on a whole new dimension - no experience required!

Filter Effects
With a host of stunning new Filter Effects, you can easily add that extra special sparkle to everything you create! DrawPlus 7 boasts an impressive array of 3D surface texture effects, an astonishing pattern generator & much more amongst its dazzling array of design options. It really couldn't be simpler to make all your designs stand out.

Curve Drawing
The outstanding new Smart Curve Drawing functionality means you can create any type of curve, in an instant! DrawPlus 7 makes it easier than ever to create truly outstanding graphics. Simply select a few points on your page & watch in amazement as DrawPlus automatically draws your curve as you go. You can even select mulitiple points – it really couldn't be simpler!

Text In A Shape
With DrawPlus 7 you can create a shape, any shape and simply start typing. It really couldn't be easier! With the amazing new Instant Text in a shape, your text will automatically flow inside the shape you've created. Whether you're using a QuickShape or a shape you've created yourself, DrawPlus will make sure your text fits it perfectly.

Fantastic Feathering
If you ever wondered how to get that fancy, fluffy cloud effect, then DrawPlus 7 is the answer! Its amazing new functionality allows you to instantly give any shape a soft edge with just a couple of mouse clicks. Now you can easily eliminate jagged edges from your designs and give all your drawings and graphics a more subtle finish.

With this fantastic cd, you also receive the resource cd, for a mere £10!



SCREENSHOTS


---
None Available
REVIEWS


---
None available
VERSIONS


---
DrawPlus 7, £69, Buy.
DrawPlus 7 Resource CD, £29, Buy.
DrawPlus 7 & Resource CD, £79, Buy.

Serif Draw Plus 6, £49 (£59 inc Design CD, RRP £29)
Serif Draw Plus 5, £29 (£35 inc Design CD, RRP £29)
Serif Draw Plus 4, £9 (£15 inc Design CD, RRP £29)

Compare also:

SYSTEM REQUIREMENTS


---
Minimum
IBM compatible Pentium PC with CD-ROM drive and mouse (or other Microsoft compatible pointing device)
Microsoft Windows® 98, 98 SE, Me, 2000, NT®4.0, or XP operating system
32MB RAM (Windows 98), see manufacturer's requirements for other operating systems
160MB (recommended install) free hard disk space
SVGA (800x600, 16-bit color) display or higher.
Additional disk resources and memory are required when editing large or complex documents.
Optional:
Windows-compatible printer
TWAIN-compatible scanner and/or digital camera
Stylus or other input device
Internet account and connection required for accessing online resources
PRICING


---
DrawPlus 7, £69, Buy.
DrawPlus 7 Resource CD, £29, Buy.
DrawPlus 7 & Resource CD, £79, Buy.

Serif Draw Plus 6, £49 (£59 inc Design CD, RRP £29)
Serif Draw Plus 5, £29 (£35 inc Design CD, RRP £29)
Serif Draw Plus 4, £9 (£15 inc Design CD, RRP £29)

Prices are in £GBP and include all applicable taxes (VAT etc)

P&P will be charged at "light items" rates (1/2/3) - click here for full Postage & Delivery Details including shipping rates within the UK, Europe and worldwide, same day and next day before midday options.

Email to check latest pricing, request a price match or stock availability.

Check Exchange Rates to convert UK pricing or Email us with your country and/or currency for a quote.


ORDERING


---
Any questions prior to ordering? - then email: Sales, otherwise proceed to the Order Form.

If the online Order Form fails for any reason or your product is not yet listed there, or you wish to print and send your order, then fill in the following, hit the [Select details] button below, and copy and paste to your email program or word processor:

Now hit Ctrl+C to copy the selected text to your clipboard and then paste (Ctrl+V) it into your preferred Email program or click here to launch your Email editor.
CONTACT DETAILS


---
Click here for full Contact Details including postal address, additional phone lines and technical support email.

Whilst we are based in the UK we can ship most items internationally.


RETURN TO
TOP OF PAGE

CLOSE
WINDOW

PRINT
PAGE

HOME
PAGE

TERMS AND
CONDITIONS

HELP ON USING
THIS SITE