| | | |
| --- | --- | --- |
| | Davka - Treasure Chest of Jewish Knowledge | |
Details and specifications of Davka's Treasure Chest of Jewish Knowledge, £69.00 (GBP inc VAT RRP £74.00). A classic five program collection!. [Buy now] or call us on 0870 766 3699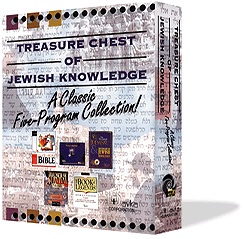 Davka Treasure Chest of Jewish Knowledge



Here's the perfect gift for Bar/Bat Mitzvah, Hanukkah, or any other special occasion-The Treasure Chest of Jewish Knowledge!

This special gift package includes five outstanding reference programs that provide a world of knowledge for all members of the family, at a very special price-just $99. In fact, when priced separately, these items are sold for over $249!

Here's what's included:
CD-ROM Bible-The complete Hebrew text and English translation of the Book of Books, complete with Rashi's commentary on the Chumash (Hebrew only). Search the text, print, copy and paste to any program.

The Book of Legends-An amazing compilation and anthology of classical Rabbinic lore and literature featuring thousands of stories, quotations and maxims on the land of Israel, the Jewish people, and all aspects of the human condition. The Book of Legends is the Schocken Press English translation of the classic 'Sefer Ha-Aggadah', edited by Hayim Nahman Bialik and Y. Ravnitzky.

Encyclopedia of Judaism-The acclaimed Encyclopedia of Judaism and the Dictionary of Jewish Biography, over 1300 pages in print, includes a vast storehouse of information on Jewish history, customs, people, and places. It is lavishly illustrated with portraits and photographs, in color and black and white.

Triumph of Survival-A Multimedia Journey through Jewish history with Rabbi Berel Wein! Based on his best-selling book, this double CD-ROM set expands far beyond the scope of the original book, with film clips, extensive historical photographs, audio excerpts and much more.

Virtual Shabbat-From the lighting of the Shabbat candles to the recitation of Kiddush, from the synagogue experience to singing Zemirot at the Shabbat table, this program will serve as an interactive guide to the basics of Shabbat. Virtual Shabbat is a project of the National Jewish Outreach Program.


Our Product Ref: DTCOJK
SCREENSHOTS


---
None Available
REVIEWS


---
None available
SYSTEM REQUIREMENTS


---
| | | | |
| --- | --- | --- | --- |
| | Windows PC | Yes | PC with Windows 95/98/ME/2000, 32MB RAM minimum, CD-ROM drive, sound card |
| | Apple MAC | Yes | Requires Macintosh with System 7.5.3 or higher, 16 MB RAM and CD-ROM drive |
| | Linux | N/A | |
VERSIONS, OPTIONS & ALTERNATIVES


---
| | | | | | |
| --- | --- | --- | --- | --- | --- |
| Davka | Treasure Chest of Jewish Knowledge | £69.00 | (RRP £74.00) | [DTCOJK] | Buy |
PRICING


---
| | | | | | |
| --- | --- | --- | --- | --- | --- |
| Davka | Treasure Chest of Jewish Knowledge | £69.00 | (RRP £74.00) | [DTCOJK] | Buy |
Prices are in £GBP and include all applicable taxes (VAT etc)

P&P will be charged at "light/heavy items" rates (1/2/3 or 3/6) - click here for full Postage & Delivery Details including shipping rates within the UK, Europe and worldwide, same day and next day before midday options.

Email to check latest pricing or stock availability

Check Exchange Rates to convert UK pricing or Email us with your country and/or currency for a quote.


ORDERING


---
Any questions prior to ordering? - then email: Sales or call us on 0870 766 3699, otherwise proceed to the Order Form.

If the online Order Form fails for any reason or your product is not yet listed there, or you wish to print and send your order, then fill in the following, hit the [Select details] button below, and copy and paste to your email program or word processor:

Now hit Ctrl+C to copy the selected text to your clipboard and then paste (Ctrl+V) it into your preferred Email program or click here to launch your Email editor.
CONTACT DETAILS


---
Click here for full Contact Details including postal address, additional phone lines and technical support email.

Whilst we are based in Norwich, Norfolk in the UK we can ship most items internationally.


RETURN TO
TOP OF PAGE

CLOSE
WINDOW

PRINT
PAGE

HOME
PAGE

TERMS AND
CONDITIONS

HELP ON USING
THIS SITE