| | | |
| --- | --- | --- |
| | Davka Talking Hebrew Word Book | |


Details and specifications of Davka's Talking Hebrew Word Book, £22.50 (GBP inc VAT RRP £24.95). See it, hear it, speak it with this Talking Hebrew Word Book from Davka. [Buy now] or call us on 0870 360 3699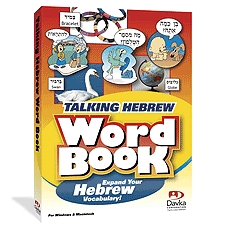 Davka Talking Hebrew Word Book

Improve and expand your Hebrew vocabulary with the Talking Hebrew Word Book -- an interactive Hebrew language tool featuring over 600 modern Hebrew phrases, expressions and words. It's ideal for travelers, students – for anyone who wants to improve their everyday Hebrew vocabulary.

Vibrant photos and clever cartoons bring the language to life, and the crisp, Israeli-accented Hebrew is pleasing to the ear. Record your voice and compare it with those on the program itself. It's a learning experience of sight, sound, and speech!

Are you planning a trip to Israel? Would you like to brush up on your knowledge of modern Hebrew phrases? The Hebrew Phrasebook is your solution!
Words and phrases are pronounced clearly and crisply.
Record your own voice and compare your pronunciation with the program.
Program is divided into 18 phrase sections and 29 word sections, complete with testing sections for each unit.
Phrases are shown in large, easy-to-read Hebrew letters with vowels and English translation
Learn a new Hebrew word each day with the Hebrew Word-a-Day option
Print words and pictures directly from the program
Words are shown with colorful photos
Phrases are shown with descriptive cartoon graphics


Please Email or Call 0870 360 3699 to enquire about site licenses, network versions, bulk discounts or educational pricing.

[Buy now] or call us on 0870 360 3699

Manufacturer's Product Code: Davka - BMSoftware Product Code: DATHWB
SCREENSHOTS


---
REVIEWS


---
Reviews, tests and comparisons of hebrew software:
SYSTEM REQUIREMENTS


---
Windows PC
Processor
Yes
Windows 98/Me/NT/2000/XP, 256MB RAM, CDROM drive, sound
Apple MAC
Yes
OS 9/X/10.2, 512MB RAM, CDROM drive
Linux
N/A
Please note that the recording feature requires an additional microphone.

VERSIONS, OPTIONS & ALTERNATIVES


---
| | | | | | |
| --- | --- | --- | --- | --- | --- |
| Davka | Talking Hebrew Word Book | £22.50 | (RRP £24.95) | [DATHWB] | Buy or Phone 0870 360 3699 |

Compare also:


PRICING


---
| | | | | | |
| --- | --- | --- | --- | --- | --- |
| Davka | Talking Hebrew Word Book | £22.50 | (RRP £24.95) | [DATHWB] | Buy or Phone 0870 360 3699 |

Also see alternative versions and products above

Prices are in £GBP and include all applicable taxes (VAT etc)

P&P will be charged at "light/heavy items" rates
(Some valuable items may have to go special delivery and packages may have outer packaging or inner boxing removed to save weight, if this is a gift or for resale please request intact boxes)

See our full Postage & Delivery Details including shipping rates within the UK, Europe and worldwide, first class and next day before 9 AM and 12 Noon, same day options.

Email to check latest pricing or stock availability or for a bulk discount quote of up to 40%.

Check Exchange Rates to convert UK pricing or Email us with your country and/or currency for a quote.


ORDERING


---
Any questions prior to ordering? - then email: Sales or call us on 0870 360 3699, otherwise proceed to the Order Form.

If the online Order Form fails for any reason or your product is not yet listed there, or you wish to print and send your order, then fill in the following, hit the [Select details] button below, and copy and paste to your email program or word processor:

Now hit copy (Ctrl+C) the selected text to your clipboard and then paste (Ctrl+V) it into your preferred Email program or click here to launch your Email editor.
CONTACT DETAILS


---
Click here for full Contact Details including postal address, additional phone lines and technical support email.

Whilst we are based in Norwich, Norfolk in the UK we can ship most items internationally.


RETURN TO
TOP OF PAGE

CLOSE
WINDOW

PRINT
PAGE

HOME
PAGE

TERMS AND
CONDITIONS

HELP ON USING
THIS SITE