| | | |
| --- | --- | --- |
| | Davka - Soncino Midrash Rabbah | |
Details and specifications of Davka's Soncino Midrash Rabbah , £129.00 (GBP inc VAT RRP £134.00). Your guide to the world of Midrashic interpretation.. [Buy now] or call us on 0870 766 3699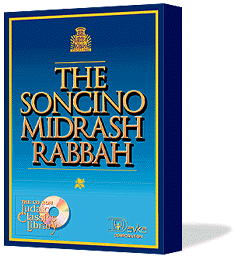 Davka Soncino Midrash Rabbah



The Soncino Midrash Rabbah on CD-ROM is the most striking testimony to the joy and reverence with which the Jews have cherished the Bible. It contains homiletical, ethical, and moral interpretations of the Bible, as expounded by the rabbis during the Mishnaic and Talmudic eras.

Soncino's Midrash Rabbah translation is renowned as the most scholarly and authoritative yet the most readable. You can easily and effortlessly search through the entire Midrash in Hebrew or English at lightning speed. Hebrew and English text can be printed or pasted into a word processor for later reference.

The Soncino Midrash Rabbah contains the following libraries on one CD-ROM:
Hebrew text of the Midrash Rabbah
Soncino English translation of the Midrash Rabbah with footnotes
Subject index of Midrash in English with glossary and dictionary of terms
Hebrew text of the Tanach with vowels
English translation of the Tanach
Hebrew text of Rashi on Chumash
The Soncino Midrash Rabbah covers the following books of the Bible:
Genesis
Exodus
Leviticus
Numbers
Deuteronomy

Song of Songs
Ruth
Lamentations
Ecclesiastes
Esther
The inclusion of the Tanach and Midrash on this CD is particularly noteworthy. When a verse of Tanach is quoted by the Midrash, with a click of a button the user can instantly see that verse complete with the surrounding text and English translation!

Produced by Davka Corporation and Soncino Press

(*Available In Flat-Pack Only)



Our Product Ref: DAVSMR
SCREENSHOTS


---
Screenshot 1
REVIEWS


---
None available
SYSTEM REQUIREMENTS


---
| | | | |
| --- | --- | --- | --- |
| | Windows PC | Yes | PC with Windows 95/98/ME/NT/2000/XP, 32MB RAM minimum, CD-ROM drive |
| | Apple MAC | Yes | Requires Macintosh with System 8.5 or higher, 32 MB RAM, and CD-ROM drive |
| | Linux | N/A | |
VERSIONS, OPTIONS & ALTERNATIVES


---
| | | | | | |
| --- | --- | --- | --- | --- | --- |
| Davka | Soncino Midrash Rabbah | £129.00 | (RRP £134.00) | [DAVSMR] | Buy |
PRICING


---
| | | | | | |
| --- | --- | --- | --- | --- | --- |
| Davka | Soncino Midrash Rabbah | £129.00 | (RRP £134.00) | [DAVSMR] | Buy |
Prices are in £GBP and include all applicable taxes (VAT etc)

P&P will be charged at "insured items" rates (2/3 or 3/6) - click here for full Postage & Delivery Details including shipping rates within the UK, Europe and worldwide, same day and next day before midday options.

Email to check latest pricing or stock availability

Check Exchange Rates to convert UK pricing or Email us with your country and/or currency for a quote.


ORDERING


---
Any questions prior to ordering? - then email: Sales or call us on 0870 766 3699, otherwise proceed to the Order Form.

If the online Order Form fails for any reason or your product is not yet listed there, or you wish to print and send your order, then fill in the following, hit the [Select details] button below, and copy and paste to your email program or word processor:

Now hit Ctrl+C to copy the selected text to your clipboard and then paste (Ctrl+V) it into your preferred Email program or click here to launch your Email editor.
CONTACT DETAILS


---
Click here for full Contact Details including postal address, additional phone lines and technical support email.

Whilst we are based in Norwich, Norfolk in the UK we can ship most items internationally.


RETURN TO
TOP OF PAGE

CLOSE
WINDOW

PRINT
PAGE

HOME
PAGE

TERMS AND
CONDITIONS

HELP ON USING
THIS SITE