| | | |
| --- | --- | --- |
| | Davka - Political Encyclopaedia of the Middle East | |
Details and specifications of Davka's Political Encyclopaedia of the Middle East, £59.00 (GBP inc VAT RRP £64.00). A comprehensive reference work on the political history of the Middle East.. [Buy now] or call us on 0870 766 3699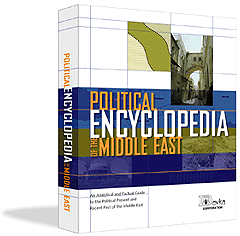 Davka Political Encyclopaedia of the Middle East



The Middle East is one of the world's most critical and complex political hot spots. As negotiations proceed on Israel's future with its neighbors and events unfold in the Middle East peace process, a basic understanding and knowledge of the region's history is crucial.

The Political Encyclopedia of the Middle East is your guide to understanding the intricacies of the Middle Eastern politics. It is an analytical and factual guide to the recent political past of the Middle East, from Morocco to Iran, from Turkey to Yemen, covering all Arab and non-Arab states in the region. It provides concise, up-to-date information about a wide range of topics.
People -- Biographies of political leaders in the contemporary Middle East, religious and military figures, dynasties and kings.
Places -- Historic and strategic sites, regions, and venues of significant events.
Trends, Issues and Events -- Conflicts, wars, agreements, treaties, alliances and political processes.
Institutions -- Religious sects, ethnic minorities, political movements and parties, armed forces, and religious institutions.
Major Issues -- Islamic fundamentalism, military forces, oil, and more.
The Political Encyclopedia of the Middle East puts this vast body of information at your fingertips for instantaneous retrieval and browsing!

Edited by Dr. Avraham Sela, senior lecturer in the Department of International Relations and a research fellow of the Truman Institute for the Advancement of Peace at the Hebrew University, this program is a necessity for scholars and students, teachers and researchers, journalists, government officials, and business leaders, as well as libraries and institutions.

"Current, concise...recommended"
--Library Journal



Our Product Ref: TESPEM
SCREENSHOTS


---
Screenshot 1
REVIEWS


---
None available
SYSTEM REQUIREMENTS


---
| | | | |
| --- | --- | --- | --- |
| | Windows PC | Yes | Pentium etc |
| | Apple MAC | N/A | Purchase Virtual PC first |
| | Linux | N/A | |
VERSIONS, OPTIONS & ALTERNATIVES


---
| | | | | | |
| --- | --- | --- | --- | --- | --- |
| Davka | Political Encyclopaedia of the Middle East | £59.00 | (RRP £64.00) | [TESPEM] | Buy |
PRICING


---
| | | | | | |
| --- | --- | --- | --- | --- | --- |
| Davka | Political Encyclopaedia of the Middle East | £59.00 | (RRP £64.00) | [TESPEM] | Buy |
Prices are in £GBP and include all applicable taxes (VAT etc)

P&P will be charged at "light/heavy items" rates (1/2/3 or 3/6) - click here for full Postage & Delivery Details including shipping rates within the UK, Europe and worldwide, same day and next day before midday options.

Email to check latest pricing or stock availability

Check Exchange Rates to convert UK pricing or Email us with your country and/or currency for a quote.


ORDERING


---
Any questions prior to ordering? - then email: Sales or call us on 0870 766 3699, otherwise proceed to the Order Form.

If the online Order Form fails for any reason or your product is not yet listed there, or you wish to print and send your order, then fill in the following, hit the [Select details] button below, and copy and paste to your email program or word processor:

Now hit Ctrl+C to copy the selected text to your clipboard and then paste (Ctrl+V) it into your preferred Email program or click here to launch your Email editor.
CONTACT DETAILS


---
Click here for full Contact Details including postal address, additional phone lines and technical support email.

Whilst we are based in Norwich, Norfolk in the UK we can ship most items internationally.


RETURN TO
TOP OF PAGE

CLOSE
WINDOW

PRINT
PAGE

HOME
PAGE

TERMS AND
CONDITIONS

HELP ON USING
THIS SITE