| | | |
| --- | --- | --- |
| | Davka - Navigating the Bible II | |
Details and specifications of Davka's Navigating the Bible II , £59.00 (GBP inc VAT RRP £64.00). World's Most Popular Torah Reading Tutor!. This programs has now been replaced by World ORT Navigating the Bible II. If the page is not automatically re-directed, click here to see new version. [Buy now] or call us on 0870 766 3699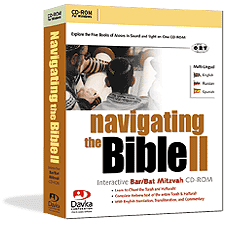 Davka's Navigating the Bible II ...



Navigating the Bible II includes all the features made famous by Navigating the Bible I:
Full text of the Chumash
All Haftarah readings
Chanting ("Laining") of the entire text
Full translations and explanations
All in a brand new, re-designed version!

Here are Navigating the Bible II's new features:
Completely redesigned program interface -- Navigating the Bible II's streamlined design makes studying the text, viewing links, and switching sections easy! The entire interface has been redesigned in order to make your learning experience more enjoyable and efficient.
Multilingual Capabilities -- Navigating the Bible II now runs in English, Russian, or Spanish! All menus, non-Hebrew text, and dialog boxes can easily be set to appear in any of these languages.
New Navigation System -- Users can navigate by story or portion in the Torah menu system.
Unlike other products that may include only the Maftir reading, Navigating the Bible II includes the FULL text of every Torah reading and Haftarah reading, expertly chanted and displayed on screen. With one click, you will see the transliteration highlighted as the words are read. Click again, the vowels disappear, and the text appears 'unpointed', as it does in a Torah scroll!

Navigating the Bible II is much more than a chanting tutor. It is a full-fledged study tool which also includes:
The complete English translation of 'The Living Torah', edited by Rabbi Aryeh Kaplan, including footnotes
Glossary of people, places, plants, and animals in the Torah
English summaries for each Torah reading
Navigating the Bible II includes a Hebrew/English calendar program that allows you to easily determine the date and reading for any Bar or Bat Mitzvah or other weekly Torah reading.

Navigating the Bible II makes the perfect gift for anyone from the budding Bar/Bat Mitzvah student to the interested adult wishing to broaden his horizons.



Our Product Ref: DNTBII
SCREENSHOTS


---
Screenshot 1 | Screenshot 2 | Screenshot 3 | Screenshot 4
REVIEWS


---
None available
SYSTEM REQUIREMENTS


---
| | | | |
| --- | --- | --- | --- |
| | Windows PC | Yes | PC with Windows 95/98/ME, 32MB RAM minimum, CD-ROM drive, sound card, 50MB hard disk space, Microsoft Internet Explorer 5.0 or later, monitor(with the screen resolution set to at least 800x600, small fonts setting) |
| | Apple MAC | N/A | Purchase Virtual PC first |
| | Linux | N/A | |
VERSIONS, OPTIONS & ALTERNATIVES


---
| | | | | | |
| --- | --- | --- | --- | --- | --- |
| Davka | Navigating the Bible II | £59.00 | (RRP £64.00) | [DNTBII] | Buy |
PRICING


---
| | | | | | |
| --- | --- | --- | --- | --- | --- |
| Davka | Navigating the Bible II | £59.00 | (RRP £64.00) | [DNTBII] | Buy |
Prices are in £GBP and include all applicable taxes (VAT etc)

P&P will be charged at "light/heavy items" rates (1/2/3 or 3/6) - click here for full Postage & Delivery Details including shipping rates within the UK, Europe and worldwide, same day and next day before midday options.

Email to check latest pricing or stock availability

Check Exchange Rates to convert UK pricing or Email us with your country and/or currency for a quote.


ORDERING


---
Any questions prior to ordering? - then email: Sales or call us on 0870 766 3699, otherwise proceed to the Order Form.

If the online Order Form fails for any reason or your product is not yet listed there, or you wish to print and send your order, then fill in the following, hit the [Select details] button below, and copy and paste to your email program or word processor:

Now hit Ctrl+C to copy the selected text to your clipboard and then paste (Ctrl+V) it into your preferred Email program or click here to launch your Email editor.
CONTACT DETAILS


---
Click here for full Contact Details including postal address, additional phone lines and technical support email.

Whilst we are based in Norwich, Norfolk in the UK we can ship most items internationally.


RETURN TO
TOP OF PAGE

CLOSE
WINDOW

PRINT
PAGE

HOME
PAGE

TERMS AND
CONDITIONS

HELP ON USING
THIS SITE