Details and specifications of Davka's It's About Time, £29.00 (GBP inc VAT RRP 34.00). Davka - It's About Time. The ultimate answer for all your Jewish Calendar needs! [Buy now] or call us on 0870 766 3699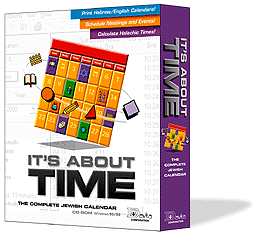 Davka - It's About Time



Version 2.1

Are you looking for the ultimate answer for all your Jewish calendar needs? Look no further than It's About Time, an easy to use, powerful, and practical program that prints great-looking Jewish calendars complete with graphics and Hebrew dates, calculates Halachic times (Z'manim), and displays holidays and user-defined appointments. It's About Time enjoys the acclaim of users worldwide, and it has received the coveted five-star rating from the Jerusalem Post. In short, It's About Time is indispensable for synagogues, JCC's, Jewish organizations, and anyone who wants to stay organized, and attuned to the Jewish calendar.

We are proud to present the all-new It's About Time Version 2.1, which features:

More flexibility!
Print more than one month with a single command
Enter all information in the date box
Edit headings with one click!
More Information!
Calendars display:

Haftarah readings
Omer count
Arba Parashiot
Daf Yomi
More Hebrew capabilities!
Holidays, Zmanim, and days-of-week header can be shown in Hebrew.
Enter your own information in Hebrew or English!
It's About Time 2.1 is a suite of three programs -- the Hebrew Desk Calendar, Hebrew Calendar Maker, and Halachic Time Explorer --which interact to provide an integrated, seamless computing experience.
The Hebrew Desk Calendar is useful for adding appointments and meeting information. It displays one month at a time on-screen -- great for easy reference! With one click of a button you can see all of the upcoming Jewish holidays for the year!
The Hebrew Calendar Maker prints beautiful, full-color calendars complete with graphics and relevant information, including Torah and Haftarah readings, personalized information in Hebrew or English, Zmanim, information from the Hebrew Desk Calendar, Yahrzeits, and much more. It can even print a customized footer at the bottom of the calendar with the name of your organization or synagogue!
Finally, the Halachic Time Explorer calculates, displays, and prints full-page charts with Halachic times for any location. It includes a built-in list of cities, and the location list is fully customizable. The Halachic Time Explorer features a wide variety of Halachic time options that can be displayed and printed with Hebrew or English titles.
There are many products that have been developed for the Jewish Calendar, but none match It's About Time in versatility, ease of use, and flexibility.
SCREENSHOTS


---
Screenshot 1 | Screenshot 2
REVIEWS


---
None available
SYSTEM REQUIREMENTS


---
| | | | |
| --- | --- | --- | --- |
| | Windows PC | Yes | PC with Windows 95/98/ME/NT/2000/XP, 32MB RAM minimum, CD-ROM drive, sound card |
| | Apple MAC | N/A | Purchase Virtual PC first |
| | Linux | N/A | |
VERSIONS, OPTIONS & ALTERNATIVES


---
| | | | | | |
| --- | --- | --- | --- | --- | --- |
| Davka | It's About Time | £29.00 | (RRP 34.00) | [DAVIAT] | Buy |
PRICING


---
| | | | | | |
| --- | --- | --- | --- | --- | --- |
| Davka | It's About Time | £29.00 | (RRP 34.00) | [DAVIAT] | Buy |
Prices are in £GBP and include all applicable taxes (VAT etc)

P&P will be charged at "light/heavy items" rates (1/2/3 or 3/6) - click here for full Postage & Delivery Details including shipping rates within the UK, Europe and worldwide, same day and next day before midday options.

Email to check latest pricing or stock availability

Check Exchange Rates to convert UK pricing or Email us with your country and/or currency for a quote.


ORDERING


---
Any questions prior to ordering? - then email: Sales or call us on 0870 766 3699, otherwise proceed to the Order Form.

If the online Order Form fails for any reason or your product is not yet listed there, or you wish to print and send your order, then fill in the following, hit the [Select details] button below, and copy and paste to your email program or word processor:

Now hit Ctrl+C to copy the selected text to your clipboard and then paste (Ctrl+V) it into your preferred Email program or click here to launch your Email editor.
CONTACT DETAILS


---
Click here for full Contact Details including postal address, additional phone lines and technical support email.

Whilst we are based in Norwich, Norfolk in the UK we can ship most items internationally.


RETURN TO
TOP OF PAGE

CLOSE
WINDOW

PRINT
PAGE

HOME
PAGE

TERMS AND
CONDITIONS

HELP ON USING
THIS SITE