Details and specifications of Davka's Doro Tree, £49.00 (GBP inc VAT RRP £54.00). A revolutionary and easy-to-use Jewish genealogy program.. [Buy now] or call us on 0870 766 3699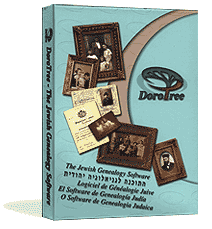 Davka Doro Tree



Developed with an emphasis on user-friendliness, DoroTree is the revolutionary new program for Jewish genealogists.

DoroTree lets you:
Print in both English and Hebrew
Enter text in Hebrew, even without a Hebrew operating system
Type in English, French, German, Spanish or Portuguese
Print Yahrzeit tables for any year
Navigate easily between generations
Transfer information easily to other family members through a friendly and intuitive multi-lingual user interface
Convert between Hebrew and Gregorian dates
Mark Holocaust victims with a special icon
Access Jewish genealogy sites on the Internet from within the program
DoroTree contains the following innovative features:
Pictures -- DoroTree can import all popular picture formats. Include as many pictures per person as you wish!
'Write Ahead' -- DoroTree helps complete family names and place names as you type them by drawing on an internal table of names that have already been entered!
Customizable Date Formats -- Choose from a variety of date formats for your data input and display!
Date Conversion -- DoroTree has fields for both civil and Hebrew dates. In addition, DoroTree includes a converter function that will convert Hebrew to civil dates and vice versa with a single click!
'OnkelUs' First Name Translator -- Do you want to be able to enter names in Hebrew, Yiddish or Ladino? Do you find it difficult to read or type Hebrew names? DoroTree's 'OnkelUs' translator converts many transliterated Hebrew or Yiddish names to their original Hebrew or Yiddish form! Right-click on the name and it will be translated into Hebrew characters!
Hebrew Keyboard -- On systems not running a Hebrew operating system, a keyboard button will display at the bottom right, which can display an on-screen Hebrew keyboard! In this keyboard layout, the letters of the Hebrew alphabet are arranged in alphabetical order to ease data entry. Click the Hebrew field you want to use, then click the appropriate keys on the on-screen keyboard!
Holocaust Victims -- Many Jewish genealogists of European origin find that many of their ancestors and relatives were killed in the Holocaust. DoroTree features a special Holocaust symbol that enables you to mark Holocaust victims in your database anddesignated them as such on printouts.
GEDCOM -- Start your DoroTree file by importing your existing family database in GEDCOM format from any other genealogy program!
You will not find a better program for Jewish genealogy than DoroTree!



Our Product Ref: DAVDOT
SCREENSHOTS


---
None Available
REVIEWS


---
None available
SYSTEM REQUIREMENTS


---
| | | | |
| --- | --- | --- | --- |
| | Windows PC | Yes | PC with Windows 95/98/ME/NT/2000/XP, 16MB RAM minimum, CD-ROM drive, 20 MB HD space |
| | Apple MAC | N/A | Purchase Virtual PC first |
| | Linux | N/A | |
VERSIONS, OPTIONS & ALTERNATIVES


---
| | | | | | |
| --- | --- | --- | --- | --- | --- |
| Davka | Doro Tree | £49.00 | (RRP £54.00) | [DAVDOT] | Buy |
PRICING


---
| | | | | | |
| --- | --- | --- | --- | --- | --- |
| Davka | Doro Tree | £49.00 | (RRP £54.00) | [DAVDOT] | Buy |
Prices are in £GBP and include all applicable taxes (VAT etc)

P&P will be charged at "light/heavy items" rates (1/2/3 or 3/6) - click here for full Postage & Delivery Details including shipping rates within the UK, Europe and worldwide, same day and next day before midday options.

Email to check latest pricing or stock availability

Check Exchange Rates to convert UK pricing or Email us with your country and/or currency for a quote.


ORDERING


---
Any questions prior to ordering? - then email: Sales or call us on 0870 766 3699, otherwise proceed to the Order Form.

If the online Order Form fails for any reason or your product is not yet listed there, or you wish to print and send your order, then fill in the following, hit the [Select details] button below, and copy and paste to your email program or word processor:

Now hit Ctrl+C to copy the selected text to your clipboard and then paste (Ctrl+V) it into your preferred Email program or click here to launch your Email editor.
CONTACT DETAILS


---
Click here for full Contact Details including postal address, additional phone lines and technical support email.

Whilst we are based in Norwich, Norfolk in the UK we can ship most items internationally.


RETURN TO
TOP OF PAGE

CLOSE
WINDOW

PRINT
PAGE

HOME
PAGE

TERMS AND
CONDITIONS

HELP ON USING
THIS SITE