Details and specifications of Davka's Davar B'ito , £29.00 (GBP inc VAT 34.00). Davka Davar B'ito - Find the Perfect D'var Torah for any occasion... Discontinued by manufacturer. Call us on 0870 766 3699 to discuss alternatives.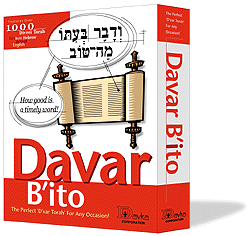 Davka Davar B'ito



When you are looking for a 'timely word,' whether it's for a formal speech, or just to say a few words at your Shabbat or holiday table, a wedding or Bar Mitzvah, Davar B'ito is the perfect resource. It includes over 1200 carefully selected Divrei Torah - in Hebrew and English - from some of the best-known authorities, including both classical as well as modern sources. Search the wide-ranging database by keyword, Parasha, or even by subject or occasion. Selections can be printed or copied and pasted to your favorite word processing program.

Of course, you can just browse through the rich and expansive database if you wish. Selections are grouped by Parasha (Torah Reading), Occasion, Subject, and Source. Additionally, they can also be viewed by different categories?Folk Sayings, Folk Tales, Hassidic Tales, Ladino Proverbs, Yiddish Folk Sayings, and Yiddish Proverbs. You're sure to find something suitable for just about any occasion, or event!

One of Davar B'ito's most unique features is the ability to add your very own Divrei Torah to the database. It's easy to add your own original comments and thoughts to the database, and you can even add notes to existing Divrei Torah. So, the next time you hear a D'var Torah worth remembering, don't scribble it on a piece of paper you are likely to misplace - jot it down in Davar B'ito, and you'll always have it handy. Here's a listing of just some of the commentators and sources found in Davar B'ito:
Ibn Ezra
Ibn Gabirol
Maimonides
Baal Shem Tov
Menachem Tzion
Rabbi Menachem Mendel of Kotzk
Rabbi Nahman of Bratslav
Midrash Rabbah
Mechilta
Chafetz Chayyim
Me'am Loez
Rabbi Israel Salanter
Saadia Gaon
Davar B'ito is the perfect resource for anyone that needs a 'timely word'. It's a useful tool and excellent resource.

Our Product Ref: DVBITO
SCREENSHOTS


---
Screenshot 1
REVIEWS


---
None available
SYSTEM REQUIREMENTS


---
System Requirements:

PC with Windows 95/98/ME/XP, 32MB RAM minimum, CD-ROM drive



VERSIONS, OPTIONS & ALTERNATIVES


---
| | | | | | |
| --- | --- | --- | --- | --- | --- |
| Davka | Davar B'ito | £29.00 | (34.00) | [DVBITO] | Buy |
PRICING


---
| | | | | | |
| --- | --- | --- | --- | --- | --- |
| Davka | Davar B'ito | £29.00 | (34.00) | [DVBITO] | Buy |
Prices are in £GBP and include all applicable taxes (VAT etc)

P&P will be charged at "light/heavy items" rates (1/2/3 or 3/6) - click here for full Postage & Delivery Details including shipping rates within the UK, Europe and worldwide, same day and next day before midday options.

Email to check latest pricing or stock availability

Check Exchange Rates to convert UK pricing or Email us with your country and/or currency for a quote.


ORDERING


---
Any questions prior to ordering? - then email: Sales or call us on 0870 766 3699, otherwise proceed to the Order Form.

If the online Order Form fails for any reason or your product is not yet listed there, or you wish to print and send your order, then fill in the following, hit the [Select details] button below, and copy and paste to your email program or word processor:

Now hit Ctrl+C to copy the selected text to your clipboard and then paste (Ctrl+V) it into your preferred Email program or click here to launch your Email editor.
CONTACT DETAILS


---
Click here for full Contact Details including postal address, additional phone lines and technical support email.

Whilst we are based in Norwich, Norfolk in the UK we can ship most items internationally.


RETURN TO
TOP OF PAGE

CLOSE
WINDOW

PRINT
PAGE

HOME
PAGE

TERMS AND
CONDITIONS

HELP ON USING
THIS SITE