| | | |
| --- | --- | --- |
| | Davka Classic Game Pack II | |
Details and specifications of Davka's Classic Game Pack II , £19.00 (GBP inc VAT RRP £24.00). Four classic Davka games on one CD!. [Buy now] or call us on 0870 766 3699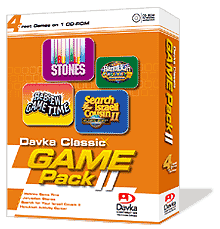 Davka Classic Game Pack II



Davka Classic Game Pack II consists of the best Davka games of all time all on one CD! Install them on your hard drive for hours of good fun. Here's what's included:
Hebrew Game Time

Take 300 modern Hebrew words, toss in a liberal dose of sound effects, mix in some old-fashioned game-enhancing features like timers, high-scores, variable speed levels, and hints, and you've got the perfect recipe for learning, fun, and entertainment! Hebrew Game Time features three great games:

| | |
| --- | --- |
| Hebrew Hangman | A classic game for all ages, with a novel twist - all words are in Hebrew! |
| Word Zapper | 25 words are on the Zapper Game Grid, and the mystery Hebrew word appears at the bottom. Can you match the words in the game grid with the word at the bottom of the screen? |
| Word Attack | Ten Hebrew words appear on your 'instrument console'. English words come raining down from space. Can you find their Hebrew translations and blast them in time? |

These entertaining games are great classroom fun, and the word editors in Hebrew Hangman and Word Zapper make it easy for teachers to add their own material to the games!

Jerusalem Stones

Jerusalem Stones challenges you to match falling stacks of stones according to the Hebrew letters imprinted on them. Your task is to align the falling stones so that you can make diagonal, horizontal, or vertical rows of matching Hebrew letters. The more rows you make, the more points you receive. The better you do, the faster the stones fall! Accompanying the tumbling stones are beautiful sites and scenes of Jerusalem, which vary at different score levels. Beware -- it's addictive!

Search for your Israeli Cousin II: Global Quest

Learn about Jewish life and history in 22 locations across the globe, following tantalizing clues that will send you from Jerusalem to Japan and from Russia to Rome! Locate your missing relatives worldwide, working against a limited budget and a ticking clock.

Search for your Israeli Cousin II is filled with fun, learning and adventure. It features fascinating and intriguing game play, amazing digitized sound and music, and full-color photos.

Hanukkah Activity Center

This CD-ROM is loaded with eight enthralling activities, filled with music, color, and fun:

| | |
| --- | --- |
| Hanukkah Jukebox | Play Hanukkah hits of past and present. View lyrics in Hebrew or English. |
| Dreidel Drama | Spin the dazzling Davka Dreidel in the traditional Dreidel game, or try your luck at Dreidel 1000. |
| Menorah Magic | Learn the blessings recited before lighting the Hanukkah Menorah and practice lighting the on-screen Menorah. |
| 44 Candles | Test your strategy skills as you try to collect exactly 44 candles -- the total number used during Hanukkah. |
| Memory Challenge | Can you match the Hanukkah pictures? |
| Who Am I? | Identify 10 Hanukkah personalities using the clues provided. |
| Hanukkah Browser | Take a fun, high-tech look at Hanukkah history. |
| Hanukkah Coloring Book | Color and print 10 Hanukkah scenes. |


Our Product Ref: DAVCG2
SCREENSHOTS


---
Screenshot 1 | Screenshot 2 | Screenshot 3
REVIEWS


---
None available
SYSTEM REQUIREMENTS


---
| | | | |
| --- | --- | --- | --- |
| | Windows PC | Yes | |
| | Apple MAC | N/A | Purchase Virtual PC first |
| | Linux | N/A | |
VERSIONS, OPTIONS & ALTERNATIVES


---
| | | | | | |
| --- | --- | --- | --- | --- | --- |
| Davka | Classic Game Pack II | £19.00 | (RRP £24.00) | [DAVCG2] | Buy |
PRICING


---
| | | | | | |
| --- | --- | --- | --- | --- | --- |
| Davka | Classic Game Pack II | £19.00 | (RRP £24.00) | [DAVCG2] | Buy |
Prices are in £GBP and include all applicable taxes (VAT etc)

P&P will be charged at "light/heavy items" rates (1/2/3 or 3/6) - click here for full Postage & Delivery Details including shipping rates within the UK, Europe and worldwide, same day and next day before midday options.

Email to check latest pricing or stock availability

Check Exchange Rates to convert UK pricing or Email us with your country and/or currency for a quote.


ORDERING


---
Any questions prior to ordering? - then email: Sales or call us on 0870 766 3699, otherwise proceed to the Order Form.

If the online Order Form fails for any reason or your product is not yet listed there, or you wish to print and send your order, then fill in the following, hit the [Select details] button below, and copy and paste to your email program or word processor:

Now hit Ctrl+C to copy the selected text to your clipboard and then paste (Ctrl+V) it into your preferred Email program or click here to launch your Email editor.
CONTACT DETAILS


---
Click here for full Contact Details including postal address, additional phone lines and technical support email.

Whilst we are based in Norwich, Norfolk in the UK we can ship most items internationally.


RETURN TO
TOP OF PAGE

CLOSE
WINDOW

PRINT
PAGE

HOME
PAGE

TERMS AND
CONDITIONS

HELP ON USING
THIS SITE