Details and specifications of Davka's Book of Legends, £39.95 (GBP inc VAT RRP £54.00). The greatest anthology of classical Rabbinic literature ever compiled! [Buy now] or call us on 0870 766 3699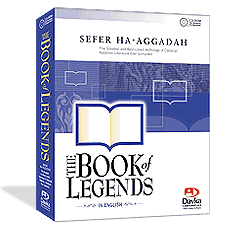 Davka Book of Legends



The Book of Legends features thousands of stories, quotations and maxims about the Jewish people, the land of Israel, and all aspects of the human condition. With the click of a button, you can search hundreds of Talmudic and Midrashic texts to locate the exact quotation or story you need. It includes thousands of stories about Biblical characters, lives of the Talmudic sages, and many parables, proverbs, and folklore that are ideal for inclusion in speeches, reports, and research.

This innovative CD-ROM is an ideal reference work for:
Preparation of speeches and reports
Researching Talmudic folklore
Understanding and appreciating Aggadic literature
Expanding one's knowledge of the Jewish outlook on life and living
The program has been completely redesigned and now features a host of new and exciting features, including:
An updated and streamlined user interface that makes it easier than ever to browse, search, and save relevant text
A revised search program that incorporates many powerful features, including natural language queries, keyword searches, hypersearches, topic searches, and much more
A convenient hard drive install feature that allows you to use the program without having the CD in the drive (Windows version only)
The ability to collect and file notes, ideas, and articles from the program into centralized and easily accessible folders
The Book of Legends is the Schocken Press English translation of the classic 'Sefer Ha-Aggadah', edited by Hayim Nahman Bialik and Yehoshua Hana Ravnitzky.



Our Product Ref: DAVBOL
SCREENSHOTS


---
Screenshot 1 | Screenshot 2
REVIEWS


---
None available
SYSTEM REQUIREMENTS


---
| | | | |
| --- | --- | --- | --- |
| | Windows PC | Yes | PC with Windows 98/ME/NT/2000/XP, 64MB RAM minimum, CD-ROM drive, Pentium (133 MHZ or faster) |
| | Apple MAC | Yes | Macintosh with System 9.0 or higher (or Classic mode under OS X), 64 MB RAM, CD-ROM drive. |
| | Linux | N/A | |
VERSIONS, OPTIONS & ALTERNATIVES


---
| | | | | | |
| --- | --- | --- | --- | --- | --- |
| Davka | Book of Legends | £39.95 | (RRP £54.00) | [DAVBOL] | Buy |
PRICING


---
| | | | | | |
| --- | --- | --- | --- | --- | --- |
| Davka | Book of Legends | £39.95 | (RRP £54.00) | [DAVBOL] | Buy |
Prices are in £GBP and include all applicable taxes (VAT etc)

P&P will be charged at "light/heavy items" rates (1/2/3 or 3/6) - click here for full Postage & Delivery Details including shipping rates within the UK, Europe and worldwide, same day and next day before midday options.

Email to check latest pricing or stock availability

Check Exchange Rates to convert UK pricing or Email us with your country and/or currency for a quote.


ORDERING


---
Any questions prior to ordering? - then email: Sales or call us on 0870 766 3699, otherwise proceed to the Order Form.

If the online Order Form fails for any reason or your product is not yet listed there, or you wish to print and send your order, then fill in the following, hit the [Select details] button below, and copy and paste to your email program or word processor:

Now hit Ctrl+C to copy the selected text to your clipboard and then paste (Ctrl+V) it into your preferred Email program or click here to launch your Email editor.
CONTACT DETAILS


---
Click here for full Contact Details including postal address, additional phone lines and technical support email.

Whilst we are based in Norwich, Norfolk in the UK we can ship most items internationally.


RETURN TO
TOP OF PAGE

CLOSE
WINDOW

PRINT
PAGE

HOME
PAGE

TERMS AND
CONDITIONS

HELP ON USING
THIS SITE