Corel Gallery 380,000; 750,000; 1.3 million is no longer available. Consider Art Explosion 600,000 or other Art Explosion or Hemera products in the clipart section. Also see IMSI Masterclips 500,000 and Clickart 300,000 DVD.
FEATURES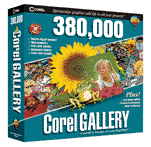 Corel Gallery 380,000; 750,000; 1.3 million Graphics and Clipart collection on several CDs offers the largest and most economical collection of general interest and Religious/Christian graphics.

Whether you need clipart images, Web graphics, animated objects or photos, Corel Gallery products put a world of images at your fingertips. Browse hundreds of categories or search by keyboard to find what you're looking for fast. Then drag and drop to add life to all your projects!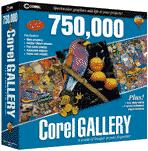 Includes:

260,000 Web images (1,200,000 in Corel Gallery 1.3 million)
100 Videos
80,000 vector clipart images (120,000 in Corel Gallery 1.3 million)
Easy to use 32 bit browser/search engine
30,000 full colour photos (50,000 in Corel Gallery 1.3 million)
Full colour clipart manual
1,000 fonts
1,000 animations
Free Corel Print House Magic 4 (& Corel Photo House in Corel Gallery 1.3 million)
500 sounds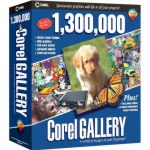 Free Corel Print House Magic 4
Add special effects to photographs in seconds with this easy to use photo editing application. Touch up, after or enhance your digital images, then include them in your creations for extra appeal.

Other effects include:

Wet paint
Warp
Puzzle
Texture
Swirl
Repair red eyes
Replace colour and many more!
---
VERSIONS
Corel Gallery 380,000
Corel Gallery 750,000
Corel Gallery 1.3 million

Also see
Art Explosion 600,000, RRP £69.95 BMS £59.95
Focus 20,000 Photos, £9.99 Art Explosion 200,000, £29.95

SYSTEM REQUIREMENTS
Windows 95 Windows 98 or NT 4.0
486 DX 66 or higher recommended
16 MB RAM
256 colour SVGA (800 x 600 display) (24 bit colour recommended)
CD ROM drive
Mouse or tablet
Netscape Navigator 3.0 Microsoft internet Explorer. 2.0 or any other browser that supports HTML 3.0

PRICING
Corel Gallery 380,000 £39.95
Corel Gallery 750,000 £54.95
Corel Gallery 1.3 million £69.95
All with a full colour clipart catalog

Postage, Packing & Insurance Rates
1
UK light items (2nd class)
£3 (GBP)
2
UK light items insured (1st class) Any orders over £100
Customers may choose this rate on light items under £100 to speed delivery
£6 (GBP)
3
UK heavy items parcelpost
UK light items next day guaranteed
Europe light items
£9 (GBP)
4
World surface mail
£12 (GBP)
5
Europe heavy items
£15 (GBP)
6
UK heavy items next day guaranteed
World airmail
£18 (GBP)
If you require the outer packaging of your order to be intact for a gift then please add this to any special instructions as normally excess weight is removed before despatch to increase chances of a standard letter box delivery, and thus not require you to wait in to receive your order. Minimum P&P on fully boxed orders is £6
Prices include 17.5% VAT

Order direct from BMSoftware


Any questions prior to ordering? - Then Email: sales@bmsoftware.com

To order, use the online

If the online ORDER FORM fails for any reason then select, copy and paste, the following and then send an email to us, filling in the details in the text of your email:

Please send me the following Software Products:

Name:
Address:


Phone:
Email:

I enclose a cheque/IMO for £ (payable to "BMSoftware")
Please charge my Credit Card with £
Card No.:
(MC/Visa):
Expiry:

CONTACT DETAILS


---
Click here for full Contact Details including postal address, additional phone lines and technical support email.

Whilst we are based in the UK we can ship most items internationally.


| | | | | | | | |
| --- | --- | --- | --- | --- | --- | --- | --- |
| | RETURN TO TOP OF PAGE | | CLOSE WINDOW | | PRINT PAGE | | HOME |