Details and specifications of ClickArt 750,000, £39.00. A collection of images both on CD and the web for use in any project, and easy to locate with the keyword search function.... [Buy now]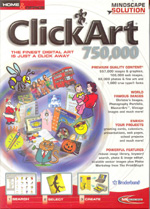 Thousands of click arts right at your fingertips!

Always find the perfect image with ClickArt 750,000!

Add the right touch to all your creations! ClickArt's colossal library is loaded with fonts and premuim
images - photos, illustrations and paintings. Great for enhancing greeting cards, business
presentations, newsletters, calendars, photo projects and so much more! And with the powerful image
browser you'll find just what you need in one easy step.

You'll Enjoy These Features With ClickArt:
• Robust Image Library
• Easy Keywork Search
• Integrated Photo Editor
• Scalable Vector Images
• Common File Formats


Compatible With Many Popular Desktop Applications, Including:
• The PrintShop
• PrintMaster
• Microsoft Word
• Microsoft Excel
• Microsoft PowerPoint and more....!

Quality Whether you are looking for an elegant painting, a whimsical illustrations, modern web graphics or a classic photograph, ClickArt delivers first-class images that will fit all of your project needs.

Images Galore! Christie's Images : Embellish any project with these timeless images. This collection features beautiful and classic paintings by many famous artists including Van Gogh, Degas and Manet. Master Art: Choose from one-of-a-kind paintings and illustrations that are perfect for creating unique and personalised projects. Black & White Clickart: From romantic to retro, these black and white photographs communicate just the right tone, mood and message for your creations. Photography Portfolio: Feel like you've traveled the world as you peruse gorgeous photos of Italian scenery, stunning African wildlife and classic Parisian scenes. The vast collections of photographers captures lifes great variety - architecture, food, sport, flowers and more! Photo Workshop: Enhance, repair or embellish your photo treasures with the versatile integrated tools in Photo Workshop

Get more from your print creativity software! ClickArt 750,000 expands your horizons with 750,000 top-quality images in every style and theme. From slick Web graphics to vivid photos, beautiful fine art – even fonts! – this amazing collection comes packed with fresh inspiration and enduring quality. Ideal for greeting cards, calendars, signs, newsletters and so much more!

Features Include….

• More than 557,000 high quality graphics.*
• Explore 100,000 Web images.
• Enhance creations with 92,000 premium photos & fine art images
• Make your message count with 1,000 TrueType® fonts.
• Locate the perfect image in seconds with easy keyword search.
• Fine-tune images to meet your needs with integrated photo and image editing.
• Compatible with all of your favorite Broderbund print programs: The Print Shop®, PrintMaster®, American Greetings® CreataCard®, Calendar Creator™ and Family Tree Maker®, as well as other popular desktop publishing applications

* Images on CD: 197,957, Images online: 552,043

SCREENSHOTS


---
None Available
REVIEWS


---
None available
VERSIONS


---
ClickArt 750,000, £39.00, Buy

Compare also:
Art Explosion 600,000, £59
Focus 75,000 Clipart, £9.99
Focus 20,000 Photos, £9.99

Hemera Photo Objects 5,000, £9.99
Hemera Photo Objects 10,000, £14.95
Hemera Photo Objects 25,000, £29.99
Hemera Photo Objects 50,000 Volume 1, £64.99
Hemera Photo Objects 50,000 Volume 2, £64.99
SYSTEM REQUIREMENTS


---
Minimum System Requirements - Windows 98/2000/Me/XP
CPU: Pentium ® 200 MHz processor or faster (300MHz Pentium® II or faster for Windows XP), RAM: 64MB RAM(128MB RAM for Windows XP)
Hard Drive: Minimum 260MB hard-disk space for minimum installation
CD-ROM: 4x CD-ROM drive or faster, Video: 800x600 display, 16-bit color
Internet Requirments: Microsoft Internet Explorer 5 or higher, 33.3 Kbps modem or faster and Internet access for online graphics, animated greetings, and online services
Printer support: Works with most popular printers (monochrome and color) supported by Windows.
PRICING


---
ClickArt 750,000, £39.00, Buy.


Prices are in £GBP and include all applicable taxes (VAT etc)

P&P will be charged at "light/heavy items" rates (1/2/3 or 3/6) - click here for full Postage & Delivery Details including shipping rates within the UK, Europe and worldwide, same day and next day before midday options.

Email to check latest pricing or stock availability

Check Exchange Rates to convert UK pricing or Email us with your country and/or currency for a quote.


ORDERING


---
Any questions prior to ordering? - then email: Sales, otherwise proceed to the Order Form.

If the online Order Form fails for any reason or your product is not yet listed there, or you wish to print and send your order, then fill in the following, hit the [Select details] button below, and copy and paste to your email program or word processor:

Now hit Ctrl+C to copy the selected text to your clipboard and then paste (Ctrl+V) it into your preferred Email program or click here to launch your Email editor.
CONTACT DETAILS


---
Click here for full Contact Details including postal address, additional phone lines and technical support email.

Whilst we are based in the UK we can ship most items internationally.


RETURN TO
TOP OF PAGE

CLOSE
WINDOW

PRINT
PAGE

HOME
PAGE

TERMS AND
CONDITIONS

HELP ON USING
THIS SITE