| | | |
| --- | --- | --- |
| | Art Explosion Label Factory Deluxe | |
Details and specifications of Art Explosion Label Factory Deluxe, £29.95. Prove your business acumen by ordering this excellent, easy-to-use Label creator, with thousands of designs and images to use, or import your own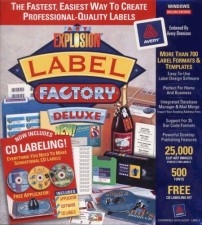 Art Explosion Label Factory Deluxe

Forget about the old-fashioned label programs you used to know. Art Explosion Label Factory Deluxe is an entire generation ahead of existing label-making solutions. Simply stated, Label Factory Deluxe is the fastest, easiest way to create professional-quality labels. Label Factory Deluxe uses wizards to assist you in making even the most complex labels in just minutes. But behind its simplicity lies a powerful application with the most sophisticated set of features available today in any label-making program.

Label Factory Deluxe is incredibly simple to use. And with more than 700 label formats supported, you can make business, home office and general purpose labels for virtually every occasion. But behind the simplicity of Label Factory Deluxe's design wizard, lies a powerful application with some very sophisticated features. You can use the rich text editor to customize, colorize and style text anywhere on your label. Add one of thousands of graphics with a simple click of your mouse and then use unique desktop publishing tools to fine-tune your design. Even use the database manager and address book for mail merge. Then print your labels on any laser or inkjet printer. There's full support for "drag and drop," OLE (Object Linking and Embedding), contex tsensitive menus and much more. And Label Factory Deluxe supports 35 different bar code formats for virtually any labeling requirement, even specialized formats
SCREENSHOTS


---
None Available
REVIEWS


---
None available
VERSIONS


---
Art Explosion Label Factory Deluxe, £29.95

Compare also:

SYSTEM REQUIREMENTS


---
Windows 95/98/NT 4.0/2000 or later
16Mb RAM
CD-ROM
PRICING


---
Art Explosion Label Factory Deluxe, £29.95


Prices include all applicable taxes

P&P will be charged at "light/heavy items" rates (1/2/3 etc 3/5/6) - see below

Email to check latest pricing or stock availability

Check Exchange Rates to convert UK pricing
Postage, Packing & Insurance Rates
1
UK light items (2nd class)
£3 (GBP)
2
UK light items insured (1st class) Any orders over £100
Customers may choose this rate on light items under £100 to speed delivery
£6 (GBP)
3
UK heavy items parcelpost
UK light items next day guaranteed
Europe light items
£9 (GBP)
4
World surface mail
£12 (GBP)
5
Europe heavy items
£15 (GBP)
6
UK heavy items next day guaranteed
World airmail
£18 (GBP)
If you require the outer packaging of your order to be intact for a gift then please add this to any special instructions as normally excess weight is removed before despatch to increase chances of a standard letter box delivery, and thus not require you to wait in to receive your order. Minimum P&P on fully boxed orders is £6
ORDERING


---
Any questions prior to ordering? - Then email: sales@bmsoftware.com.

To order, use the online

If the online [Order Form] fails for any reason or your product is not yet listed there, or you wish to print and send your order, then fill in the following, hit the [Select details] button, and copy and paste to your email program or word processor:

Now hit Ctrl+C to copy the selected text to your clipboard and then paste (Ctrl+V) it into your preferred program Make sure you read our Terms and Conditions.
CONTACT DETAILS


---
Click here for full Contact Details including postal address, additional phone lines and technical support email.

Whilst we are based in the UK we can ship most items internationally.


| | | | | | | | |
| --- | --- | --- | --- | --- | --- | --- | --- |
| | RETURN TO TOP OF PAGE | | CLOSE WINDOW | | PRINT PAGE | | HOME |