Details and specifications of Art Attack - Gift Pack, £24.95. Join Neil Buchanan in creativity on the computer, impropving computer skills whilst producing cards and invitations etc...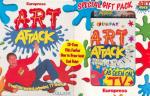 Art Attack - Gift Pack
Featuring the eye-catching Art Attack look and including voiceover help from the TV programme's popular presenter Neil Buchanan.
Art Attack CD-ROM
; The award winning children's TV art show is a feast of irresistible ideas and visual excitement. Now its 'have a go' philosophy comes to the PC screen with this program featuring an impressive collection of powerful creative facilities.
This, the original Art Attack, features a fully functioned paint studio, a unique cartoon creator and the zany creative studio including digital glue, an 'image hose' and drawing pendulum.
Also included in this special gift pack is a Kids FunFax, How To Draw book and glitter paint.
SCREENSHOTS


---
None Available
REVIEWS


---
None available
VERSIONS


---
Art Attack - Gift Pack, £24.95

Compare also:
Art Attack - Make It!, £9.99
Art Attack Print It!, £19.99

SYSTEM REQUIREMENTS


---
166 MHz CPU or better
Windows 95, 98 or Me
16 MB RAM
8 MB 3D video hardware acceleration or better
DirectX 7 or later
Windows compatible soundcard
PRICING


---
Art Attack - Gift Pack, £24.95


Prices include all applicable taxes

P&P will be charged at "light/heavy items" rates (1/2/3 or 3/6) - click here for full Postage & Delivery Details including shipping rates within the UK, Europe and worldwide, and next day before midday options.

Email to check latest pricing or stock availability

Check Exchange Rates to convert UK pricing or Email us with your country and/or currency for a quote.


ORDERING


---
Any questions prior to ordering? - Then Email: sales@bmsoftware.com.

To order, use the online

If the online ORDER FORM fails for any reason or your product is not yet listed there, or you wish to print and send your order, then fill in the following, hit the Select details button, and copy and paste to your email program or word processor:

Now hit Ctrl+C to copy the selected text to your clipboard and then paste (Ctrl+V) it into your preferred program
CONTACT DETAILS


---
Click here for full Contact Details including postal address, additional phone lines and technical support email.

Whilst we are based in the UK we can ship most items internationally.


| | | | | | | | |
| --- | --- | --- | --- | --- | --- | --- | --- |
| | RETURN TO TOP OF PAGE | | CLOSE WINDOW | | PRINT PAGE | | HOME |