Details and specifications of Age of Empires, £10. Control and manipulate the beings throughout history as you build civilisations and assist in their development.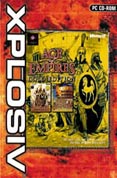 Play one of history's twelve mightiest civilizations! Command the Greek phalanx, the world's best infantry for hundreds of years. Lead the chariots of the Hittites, or Assyrians. Build up the vast agricultural empire of Egypt, Babylon, or Sumeria. Guide the Persians from their small enclave to prominence as a world power. Guide the Shang (China), Choson (Korean), or Yamato (Japan) for control of Asia. Dominate world sea trade as the Phoenicians or Minoans.

It's not only a different game each time you play. It's a different game, period. Beautiful graphics, twelve civilizations, a comprehensive technology tree, dozens of units, randomly generated maps, and a rich soundtrack, add up to a more complete gaming experience.

Age of Empires sets you within an historical context, not in a purely fictional world. But of course, if you would rather diverge from the beaten path, Age of Empires includes a built-in scenario editor so you can create your own conflicts and scenarios.

Age of Empires also brings you the expanse of the unknown. You have room to roam -- the maps are large, plenty of room for you, and up to eight other players, to play in a multiplayer forum.

SCREENSHOTS


---
None Available
REVIEWS


---
None available
VERSIONS


---
Age of Empires , £10

Compare also:
Age of Empires II - The Age of Kings, £39.99
SYSTEM REQUIREMENTS


---
Pentium 90 or higher processor
16 MB RAM
Microsoft Windows 95 operating system or Windows NT Workstation 4.0 with Service Pack 3
Local SVGA bus video display (with 1 MB VRAM)
80 MB of available hard disk space
50 MB free disk space for swap file
Quad speed CD-ROM drive - for cinematics
Double speed CD-ROM drive - for gameplay
Microsoft Mouse or compatible pointing device
Sound board plus speakers or headphones to hear audio
28.8 Kbps modem for head-to-head play
PRICING


---
Age of Empires , £10
P&P will be charged at "light/heavy items" rates (1/2/3 or 3/6) - see below

Email to check latest pricing or stock availability

Check Exchange Rates to convert UK pricing

Prices include all applicable taxes

P&P will be charged at "light/heavy items" rates (1/2/3 or 3/6) - click here for full Postage & Delivery Details including shipping rates within the UK, Europe and worldwide, and next day before midday options.


ORDERING


---
Any questions prior to ordering? - Then email: sales@bmsoftware.com.

To order, use the online

If the online [Order Form] fails for any reason or your product is not yet listed there, or you wish to print and send your order, then fill in the following, hit the [Select details] button, and copy and paste to your email program or word processor:

Now hit Ctrl+C to copy the selected text to your clipboard and then paste (Ctrl+V) it into your preferred program Make sure you read our Terms and Conditions.
CONTACT DETAILS


---
Click here for full Contact Details including postal address, additional phone lines and technical support email.

Whilst we are based in the UK we can ship most items internationally.


| | | | | | | | |
| --- | --- | --- | --- | --- | --- | --- | --- |
| | RETURN TO TOP OF PAGE | | CLOSE WINDOW | | PRINT PAGE | | HOME |